Go to page :

1, 2, 3

asianlover
Caless Student

Bow respectfully and present autograph book and ask nicely for a group picture and autographs
thoseguiltyeyes
Administrator


This has actually happened to me twice before in real life:

First time was four years ago when my friends and I ran into TOMO on the street in Shibuya when we were there for their Queens are trumps tour. My friend asked her for a picture and she obviously said no, but she did autograph his Dobondobondo iPhone sticker. I didn't have anything personally for her to autograph, but that was fine. We saw her again later at the FLiP show also in Shibuya and waved to her while she waved back to us.

Second time was this past May when they went to Hawaii. The morning of the day after the Honolulu Ekiden, my boyfriend and I were walking out of our Airbnb building and saw a group of people heading towards us in the direction we were going. Not trying to sound like I'm bragging but the band and their staff now know who we are, so before we even realized that it was the band (minus RINA, who was shooting for her style book) and their staff, their manager Eisuke waved to us first! It was pretty awesome, ngl lol. We said good morning to them and let them go on their way.

If I ever get another chance in the future, I'd probably try talking them conversationally a bit more. I got my first real chance to in Hawaii at their last Fan Meeting and it was great. HARU made fun of how she ran past me in the Ekiden, haha.
_________________________________________________________________________________________________
2011.07.03 SCANDAL @ AM2 -Anaheim, CA 2012.03.28 SCANDAL vs BUDOKAN @武道館 2012.11.03+04 SCANDAL HALL TOUR 2012 @愛知 2012.11.10 SCANDAL @ Happy MUSIC Live 2012 2013.03.03 SCANDAL OSAKA-JO HALL 2013 @大阪城ホール 2014.06.01 Honolulu Ekiden & Music 2014 2014.06.02 SCANDAL Fan Meeting 2015.04.25 SCANDAL WORLD TOUR 2015「HELLO WORLD」 Paris, FR 2015.04.26「HW」London, UK 2015.04.30「HW」Essen, GER 2015.05.15「HW」-Chicago, IL 2015.05.20「HW」Mexico City, MEX 2015.05.22「HW」Los Angeles, CA 2015.05.23「HW」Anaheim, CA 2016.01.12+13 SCANDAL ARENA TOUR『PERFECT WORLD』@武道館2016.05.21 Welcome Fan Meeting 2016.05.22 Honolulu Ekiden & Music 2016 2016.05.23 Farewell Fan Meeting 2016.08.21 SCANDAL 10th ANNIVERSARY FESTIVAL @泉大津フェニックス 2017.07.14+15+17 SCANDAL's 47 Prefecture Tour
Great Thoseguiltyeyes... now I'm feeling much better.
If you are an "ancient" Scandal fan, and you were treated like that...
with my 2 months, they will treat me like a zombie and runaway.
Or worst...
They will call their staff to kick my ass... I wanna see that 
( I'm peaceful... it's a joke :D )


Last edited by HitenMitsurugi on Fri Nov 11, 2016 3:42 am; edited 1 time in total (Reason for editing : just kidding)
_________________________________________________________________________________________________
tonymiller
International Performer

@thoseguiltyeyes

Dont be ashamed to brag about it, if I was lucky enough to have Scandal know me by sight everyone would know !
_________________________________________________________________________________________________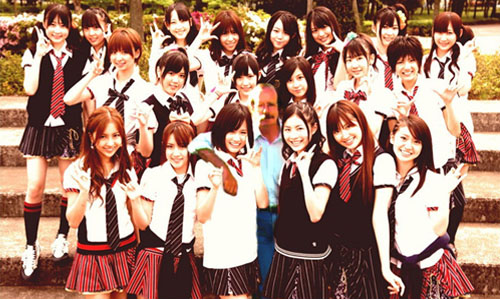 AngelBeats
Caless Student

I would be a real girlie man and cry and yell "Tomomi marry me" LOL
JR_Grimes
Shiroten Performer


Hopefully get a selfie then get on about my business
_________________________________________________________________________________________________
MerlinEllis
Caless Student

Well hopefully I wouldn't randomly bump into them until I'm better at japanese, but either way I would do my best to ask for an autograph and then let them go about their business. If I could manage it I would try to say something about how much their music motivates me and how I started playing drums because of Rina. But mostly likely I would just panic. haha
Meianx15
Caless Student

 Woooh!! I'll shout their names I guess...and of course I would grab the chance to shake hands or have a photo with them  If that happens I can die in peace 
rachel_snsd48
Caless Student

Would try to tell them I love them and probably cry. I would take a million pictures and try to get Tomomi to sing the One Piece bridge for me 
_________________________________________________________________________________________________
Go to page :

1, 2, 3
Permissions in this forum:
You cannot reply to topics in this forum