You thanked this post! -
Thanks received by this post:
Message reputation : 100% (1 vote)
HARUNA
(Vocals & Rhythm Guitar)
Pick of choice: Custom Fender "Rock On" Touring Picks - 1.00mm [Has the band's emblem on it]
Currently Using:
Squier (Fender) Telecaster HH HARUNA MODEL
(March 2012 - present; considered to be her main guitar)
Nickname: Skullsilver
Features silver sparkles, a skull design on the body, and a black pickguard. Since it's based on the original HH, it has an alder body, maple neck, and maple fretboard. It has been made available for consumers to purchase from summer 2014 onwards for 60,000 yen.
---
Fender Telecaster Thinline Deluxe
(2010 - present)
This guitar has a humbucker in the bridge position.
---
Fender American Standard Telecaster
(Late 2008 - early 2010)
Nickname: Shun-kun
HARU used to primarily use a Fender Telecaster with a maple fretboard and a pearloid pickguard. The pickups are most likely the standard Fender American Standard Tele stock pickups.
---
Fender Pawn Shop Mustang Special (Lake Placid Blue)
(June 2013 - present)
Debuted at the first stop of the SCANDAL LIVE TOUR 2013 "SCA wa Mada Honki Dashitenai Dake" in Sapporo.
Specs:

Body Material: Alder

Body Shape: Mustang

Body Finish: Polyester

Neck Shape: '60s "C"

Number of Frets: 22

Fret Size: Medium Jumbo

Position Inlays: Dot

Fingerboard: Rosewood

Fingerboard Radius: 9.5" (241 mm)

Fingerboard: Rosewood

Neck Material: Maple

Neck Finish: Urethane

Nut Width: 1.650" (42 mm)

Scale Length: 24" (61 cm)

Neck Plate: 4-Bolt

Truss Rods: Standard

Truss Rod Nut: 3/16" Hex Adjustment

Pickup Configuration: HH

Bridge Pickup: Enforcer

"Wide Range" Humbucking with Downsized Wide Range Covers

Neck Pickup: Enforcer

"Wide Range" Humbucking with Downsized Wide Range Covers

Pickup Switching: 3-Position Toggle: Position 1. Bridge Pickup, Position 2. Middle Pickup, Position 3. Neck Pickup

Special Electronics: Coil Selector Switch for Each Humbucker

Controls: Master Volume, Master Tone; Pickup Toggle Switch; Coil Selector Switch for Each Humbucker

Hardware Finish: Chrome

Bridge: 6-Saddle Vintage-Style Strat

Strings-Through-Body Hardtail

String Nut: Synthetic Bone

Tuning Machines: Vintage-Style

Strings: Fender

USA Super 250L, NPS (.009-.042 Gauges)

Unique Features: Double Humbucker Configuration, Hardtail Bridge, Unique Pickup Switching with 15 Options, Short Scale, Offset Mustang Body Shape

Pickguard: 3-Ply Mint Green

Price: USD $1,047 / 95,650 yen / £638
---
Guild M-75 Aristocrat (Antique Burst)
(May 2014 - present)
Debuted on the Kyuu ni Kite Gomen. in Kita tour in early May. More info can be found here.
---
Fender American Professional Series Telecaster Deluxe Shawbucker (Sonic Gray)
(Early 2017 - present)
Debuted on SCANDAL's 47 Prefecture Tour and used during songs such as "Stamp!", "DOLL," "Flashback No.5," and "EVERYBODY SAY YEAH!". More info can be found here.
---
Fender Custom Telecaster
(August 2017 - present)
HARU's newest guitar, featuring a white body and gold hardware. These latest custom Fender instruments debuted on SCANDAL's Instagram on Aug. 18, 2017, and made their official live debut at SCANDAL's 11th anniversary live on Aug. 21, 2017.
HARU's comments about the guitar from the Dec. 2017 issue of Go!Go! GUITAR:
Putting an emphasis on appearance, I thought that a design that suits my current age and a guitar that I can use for a long time would be best. Since I have many guitars with dark-colored bodies, I made the body white and made parts such as the edges, tuning pegs, and pickups gold to bring out a sense of quality. Sounds don't rely on power, and I emphasized that aspect because we've had an increase in songs that are played with clean/crunchy sounds.
---
Yamaha LS36 ARE
(Late 2015 - present)
Used during songs that call for acoustic guitars ("Sisters," "Sayonara My Friend").
---
Not Used Anymore/Used Rarely:
Click here to see gear that is not used anymore/rarely used:

Yamaha Pacifica 112

(2006 - 2007)

HARU used a Yamaha Pacifica with a rosewood fretboard and CANTA sticker as decoration when SCANDAL first started out.

---

Fender Eric Clapton Stratocaster

(2007 - 2008)

This guitar was used during their early performances as well as in "Space Ranger" and "Koi Moyou" PVs.

Below, you can just barely make out the Eric Clapton signature on the headstock.

---

Fender (most likely Squier) Telecaster

(Shoujo S PV & BEST★SCANDAL PB only)

Since this guitar was used in the "Shoujo S" PV, it most likely was not used anywhere else. This is also the guitar she smashed in the

BEST★SCANDAL

photobook. During the week of 03/25/2011, this guitar along with MAMI's and TOMO's instruments used in the "Shoujo S" PV were auctioned. The winning bid for this guitar was ¥251,001.

---

Fender Mexico '69 Telecaster Thinline, 2002 Limited Edition (Surf Green)

(2009)

This guitar is a Fender '69 Series Telecaster Thinline with a maple neck and a pearloid pickguard. She used this guitar during their First One-Man Live Tour in 2009 for songs such as "Ring!Ring!Ring!" and "S.L.Magic."

Here's the pic of her in the studio(November 29, 2009):

HARU trying it out in a shop:

---

Fender Telecaster Classic Series '72 Custom

(~2009)

The photo below features both the Thinline and the Classic '69.

---

Takamine 1991 Limited Edition

i

(October 2009)

HARU previously used a Takamine 1991 Limited Edition, now discontinued. This guitar was used during their first anniversary live on October 25, 2009. Songs perfomed using this guitar include "Koi Moyou," "SAKURA Goodbye," and the Sadistic Mika Band cover "Time Machine ni Onegai."

---

Squier Classic Vibe Telecaster Thinline

(Date of debut unknown; featured in SCANDAL MANIA Vol. 3 bulletin)

This Thinline tele has a natural mahogany body, maple fretboard, and a white pearloid pickguard. HARU says that she likes this guitar because it is "lightweight yet affordable." No other appearances of this guitar have been found except for the article in the photobook.

---

Guild GAD-30R

(October 2010 - present)

This was first seen in the

EVERYBODY SAY YEAH!

DVD during "Sayonara My Friend." It is still used now and again for acoustic performances. The top and bracing of the guitar are made from spruce while the back and sides are rosewood. More info and specs can be found here.
---
Pedals, amps, accessories, other gear, etc.
Last update: January 2016
Effects
:
-LINE6 M5
-ZVEX Vexter Fuzz Factory
-Rockett Pedals ARCHER Ikon
-Fulltone OCD
-BOSS TU-3 Chromatic Tuner
-Free The Tone ARC-53M
-Korg Kaossilator
-Korg MiniKP Kaoss Pad
HARU used the Rupert Neve Designs RNDI during "Sisters" with her electric acoustic guitar.
EVH 5150III 50 watt head with a 2 x 12" cab
EVH 5150III website wrote:It's a three-channel amp; channels one and two share EQ, with gain, low, mid, high and volume controls; channel three has gain, low, mid, high, volume and master presence and resonance controls. Other features include selectable impedance (4, 8 or 16 ohms), dual parallel speaker output jacks, effects loop, headphone jack, line out and black hardware. Included four-button footswitch has 1/4" input jack; also accommodates MIDI footswitching.
The Luck 6V appears to be handwired and is a 40-watt amp.
It's powered by 3x ECC83, 4x 6V6 and 2x GZ34 (rectifier) tubes/valves. The 12" speaker is a British-made Celestion Classic Lead 80.
The price tag is (according to Ishibashi) is about 560,000 yen (roughly USD5grand!). 
OCD Setting: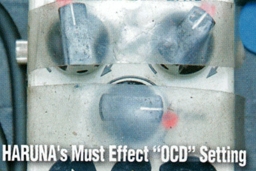 Amp Setting:
Wireless Headset Microphone: Shure WBH54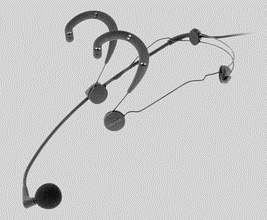 In-Ear Monitor:FitEar ProAudio 334As always, please keep forum rules in mind and direct any non-HARUNA gear talk to the other topics. Thanks.


Last edited by Lexian on Sun Jan 24, 2016 12:34 am; edited 16 times in total