You thanked this post! -
Thanks received by this post:
Message reputation : 100% (11 votes)
MAMI
(Lead Guitar & Vocals)
Pick of choice: Custom Fender "Rock On" Touring Picks - 0.73mm (Similar to HARUNA's)
Guitar Strings: Ernie Ball Regular Slinky Gauge 10 (Yellow Package)
Currently Using:
Fender American Standard Stratocaster HSS Black/MAMI MODEL
(Regular model: Late 2009 - early 2010)
(MAMI Model: Early 2010 - present)
Originally purchased as a regular Standard Strat HSS near the end of 2009. Around March 2010, MAMI customized this guitar with a paint job that she designed on Photoshop. The result is the all-black guitar with a "melting ice-cream" design that you see today, painted by RADICAL BRATS DESIGNS. A humbucker in the bridge position was installed, as humbuckers produce more gain than single coils, making it more suitable for a lead guitar. The pickups, humbucker, pickguard and controls were all changed to black. The white strap with music notes on it is from Perris Leathers, model BMN-1253.
Pictures of the regular model:
Spoiler:
Pictures of the MAMI MODEL:
Spoiler:
---
Squier by Fender「MAMI JAZZMASTER PEARL WHITE」
(March 2012 - present)
Nickname: Stratomaster
For more info: 
http://www.scandal-heaven.com/t10022-scandal-s-signature-squier-instruments#643742
An HSS like her regular Stratocaster, featuring a Seymour Duncan "Rails" humbucker on it. It has been made available for consumers to purchase from summer 2014 onwards for 60,000 yen.
For those brave enough to try to replicate the design on the Stratomaster, the graphic on the body is similar to this.
---
Gretsch White Falcon Double Cutaway G6136DC [1962 Reissue]
(August 2010 - present)
In MAMI's blog entry on Aug. 5, 2010, MAMI shared with her fans that she had recently bought a Gretsch White Falcon. Price? A whopping ¥509,250! Even though she bought it during the summer of 2010, she had only used it for casual/personal use. It wasn't until early 2011 that the White Falcon made its formal debut by appearing in the PV for "CUTE!", which is fitting since the White Falcon was used to record that track.
MAMI added a fish in the falcon's talons: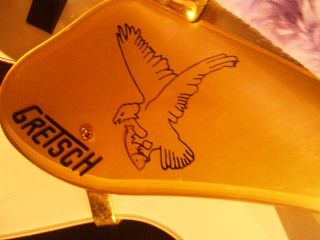 ---
Gibson Custom Shop Les Paul Standard (Pelham Blue)
(October 2013 - present)
This guitar made its debut on SCANDAL's STANDARD Tour in the fall of 2013. From GO!GO!Guitar magazine's article on the guitar: "Debuting starting from this tour, it's a Custom Shop Les Paul Standard with a dazzling bright blue sparkle. It's used for songs like 'Metronome,' 'Koi no Gestalt Houkai,' 'Kagen no Tsuki,' 'Weather report,' 'Awanai Tsumori no, Genki de ne,' etc."
More pictures of the Les Paul:


    Pelham Blue VOS Finish
    Maple Top
    Mahogany Body
    Mahogany Neck
    One-Piece Rosewood Fretboard
    Hide Glue Neck-Fit
    Original Historic Truss Rod Sans "Tubing"
    24 ¾" Scale Length
    1-11/16" Nut Width
    22 frets
    ABR-1 Bridge
    Stopbar Tailpiece
    Custom Bucker Pickups
    Kluson Deluxe Green Key Tuners
    Nickel Hardware
    8lbs 10 ounces
---
Fender Classic Player Jazzmaster Special (3-Color Sunburst)
(February 2011 - present)
This guitar was first spotted during the AniUta KITAKYUSHU 2011 event in February of 2011.
Spoiler:

kudo_maharizu wrote:MAMI's JM has an AoM bridge not the usual JM one.

Specs:

General

Model Name: Classic Player Jazzmaster

Special, Rosewood Fingerboard, 3-Color Sunburst

Model Number: 0141600300

Series: Classic Player

Color: 3-Color Sunburst

Body

Body Material: Alder

Body Finish: Polyester

Body Shape: Jazzmaster

Neck

Neck Material: Maple

Neck Finish: Gloss Urethane

Neck Shape: "C" Shape

Scale Length: 25.5" (648 mm)

Fingerboard: Rosewood

Fingerboard Radius: 9.5" (241 mm)

Number of Frets: 21

Fret Size: Medium Jumbo

String Nut: Synthetic Bone

Nut Width: 1.650" (42 mm)

Position Inlays: Dot

Truss Rod Nut: Vintage-Style Slotted

Neck Plate: 4-Bolt Vintage-Style

Electronics

Bridge Pickup: Special Design Hot Single-Coil Jazzmaster

Neck Pickup: Special Design Hot Single-Coil Jazzmaster

Controls: Lead Circuit: Volume, Tone. Rhythm Circuit: Volume, Tone

Pickup Switching: 3-Position Toggle: Position 1. Bridge Pickup, Position 2. Bridge and Neck Pickups, Position 3. Neck Pickup

Pickup Configuration: SS

Hardware

Bridge: Adjusto-Matic

Bridge with Vintage Style "Floating" Tremolo Tailpiece and Tremolo Lock Button

Hardware Finish: Chrome

Tremolo Arm Handle: Screw-In Style Jaguar/Jazzmaster Tremolo Arm

Tuning Machines: Vintage-Style

Pickguard: 4-Ply Tortoiseshell

Control Knobs: White Plastic

Auxiliary Switching: 2-Position Tone Switch

Strings: Fender

USA 250R NPS, (.010-.046 Gauges)

Unique Features: New Pickups with Fatter Tone and More Output, Adjusto-Matic

Bridge, Medium Jumbo Frets, New Neck Pocket Cut Provides Better Pitch, 9.5" Radius, Trem Plate Moved Closer to Bridge to Increase Break Angle and Sustain, Screw-In Tremolo Arm, White Plastic Knobs and Switches
---
Fender American Vintage '64 Telecaster (Lake Placid Blue)
(Mid 2015 - present)
MAMI first used this guitar in the promo shoot for
Sisters
in 2015, in the promo videos for SCAFES, and resurfaced when MAMI was featured in the March 2017 issue of SOUND DESIGNER magazine.
SPECS:

Lake Placid Blue 011-1000-802
Body: Alder
Body Shape: Telecaster
Body Finish: (0111000802) New Fender Flash Coat Lacquer
Neck Shape: Mid '60s "C" Shape
Number of Frets: 21
Fret Size: Vintage Style Frets
Fretboard Radius: 7.25″ (18.41 cm)
Fretboard: Round Laminated Rosewood
Neck Material: Maple
Neck Finish: New Fender Flash Coat Lacquer
Nut Width: 1.650″ (42 mm)
Scale Length: 25.5″ (64.8 cm)
Truss Rods: Vintage-Style Heel Adjust
Pickup Configuration: S/S
Bridge Pickup: New American Vintage '64 Gray-Bottom Tele Single-Coil Pickup (Bridge)
Neck Pickup: New American Vintage '64 Gray-Bottom Tele Single-Coil Pickup (Neck)
Pickup Switching: 3-Position Blade: Position 1. Bridge Pickup, Position 2. Bridge and Neck Pickups, Position 3. Neck Pickup
Controls: Master Volume, Master Tone
Hardware: Chrome
Bridge: Original Vintage Style Tele Bridge with 3 Threaded Steel Saddles
String Nut: Bone
Tuning Machines: Single Line "Fender Deluxe" Vintage Style
Switch Tip: "Top Hat" Style Switch Tip
Strings: Fender USA 250R NPS, (.010-.046 Gauges)
Unique Features: Slimmer, more rounded maple neck with "C"-shaped profile and round-laminated rosewood fingerboard with larger pearl dot inlays; All-new pickups wound to period-correct specs and sound, with staggered bridge pickup pole magnets; Threaded steel "barrel" bridge saddles; "Top-hat" switch tip and flat-top knurled chrome control knobs
Case: New Deluxe Vintage Brown Case
Pickguards: 3-Ply White with Vintage Bevel
Included Accessories: Vintage '64 Tele Strap, Cable, and Cloth; Vintage Wiring Kit, '60s Tele Information Kit, Bridge Cover, Owner's Manual, Saddle Height Wrench
Control Knobs: New Knurled Chrome Flat Top
---
Fender Custom Stratocaster
(August 2017 - present)
MAMI's newest guitar, featuring a vintage cherry red body, gold hardware, and a white pearloid pickguard. These latest custom Fender instruments debuted on SCANDAL's Instagram on Aug. 18, 2017, and made their official live debut at SCANDAL's 11th anniversary live on Aug. 21, 2017.
MAMI's comments about the guitar from the Dec. 2017 issue of Go!Go! GUITAR:
The grain of the wood was made visible by making it a vintage cherry red color. The neck and fretboard were made of maple to bring out the brightness. Features such as the bridge and tuning pegs were made gold to bring out a feeling of quality. I made sure to make its appearance pop without giving it a heavy feeling and not making it too low-key. The sound is also important, but I took being able to use it for a long time into consideration.
---
YAMAHA LLX36C ARE
(2012 - present)
As of the
Queens are trumps
tour in fall 2012, MAMI has been playing this acoustic guitar when occasion calls for it (acoustic lives, songs that use acoustic guitars, etc.).
---
Not Used Anymore/Used Rarely:
Click here to see gear that is not used anymore/rarely used:

Busker's BSE - Pink

(2006 - 2008)

This was MAMI's first guitar the band was

just starting out

.

---

Gibson Les Paul Special Double Cutaway

(Mid 2008 - mid 2009)

Back in the day, MAMI divided her usage of this guitar and the sticker Strat about 40/60. She removed the black pickguard in January of 2009. The guitar has not been used since 2009.

Link: http://www.gibson.com/jp-jp/Divisions/Gibson%20Custom/Les%20Paul/1960%20Special%20Double%20Cutaway/

---

Italia Maranello Speedster (Metallic Blue)

(Used from 2011 Dreamer tour - present)

Nickname: John

This guitar debuted on the 2011 Dreamer tour. Alder body with double humbucker (Wilkinson WVC Humbucker), maple neck, and rosewood fretboard. Costs approximately 73,500 yen.

---

Fender Custom Shop Stratocaster

(Mid 2013 - present)

Not much is known about this guitar, as the only times MAMI has been seen playing it were on the SCAMada tour in summer of 2013.

---

Fender American Standard Stratocaster ~60th Anniversary Edition~

(January 2007  - Late 2009; rarely used afterwards)

Known to fans as the "Sticker Strat." MAMI bought this in late January 2007 when SCANDAL was still relatively new. More and more stickers were added as time went on. Some notable stickers include small happy faces, stars, and Pipo-kun (Tokyo Police Dept. mascot & one of MAMI's favorite cartoon characters). This guitar was shelved after she bought the black HSS Strat. The most recent appearance of this guitar was during the "SCANDAL no Theme" PV on the

BABY ACTION

DVD. Currently, the most recent appearance of the guitar was in the March 2017 issue of SOUND DESIGNER magazine. She appears to use it only in her home studio.

Just purchased; no custom stickers:

2007; stickers start to appear:

Mid 2009:

Late 2009:

Stickers up close:

Spoiler:

---

Fender (probably Squier) Stratocaster

("Shoujo S" PV &

BEST★SCANDAL

PB only)

This guitar was used only for the "Shoujo S" PV and later on for the

BEST★SCANDAL

photobook. During the week of March 25, 2011, this guitar along with the other two guitars used in the "Shoujo S" PV were auctioned. The winning bid for this guitar was ¥151,001. For the auction it looks like stickers were to it to give it that "MAMI-style" look.

---

MAMI's acoustic guitars

MAMI also had a previous acoustic guitar. Only one picture could be found, and a really small one at that. Although the brand is unknown, it looks like it could be a Martin.
---
Pedals, amps, accessories, other gear, etc.
Effects
:
-BOSS TU-2 Chromatic Tuner
-XOTIC Custom Shop BBP-MB
-Rockett Pedals ARCHER Ikon
-BOSS AW-3 Dynamic Wah
-Creation Audio Labs MK.4.23
-ZVEX Vexter Fuzz Factory
-Electro-Harmonix Little Big Muff Pi
-ZVEX Fuzz Probe
-ZVEX Vexter Wah Probe
-Free The Tone Audio Routing Controller ARC-3
-Dunlop Cry Baby Wah Wah
-DigiTech Whammy 5
-EVENTIDE TimeFactor
-CUSTOM AUDIO JAPAN AC/DC Station Ver.2
-BOSS FRV-1 '63 Fender Reverb
-Xotic EP Booster
-BOSS OC-3 Super Octave
-LINE6 MM-4 Modulation Modeler
-Peterson StroboFlip VS-F Virtual Strobe Tuner
And last but not least - MAMI's amps.
Two Marshall JCM2000 50W Dual Super Lead heads running through a 280W 1960AV angled 4x12" cab and a 100W 1960AX (or possibly a 50th Anniversary) angled 4x12" cab.
MAMI added a Marshall Astoria Dual amp for their 47 prefecture tour in early-mid 2017.
MAMI's Big Muff setting: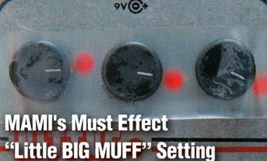 MAMI's amp setting:

Wireless Headset Microphone: Shure WBH54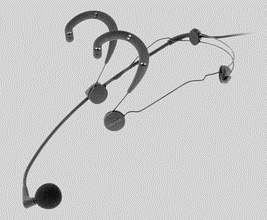 In-Ear Monitor:FitEar ProAudio
334
due to the fact that only ProAudio series come from the yellow pelican box.
As always, please keep forum rules in mind and direct any non-MAMI gear talk to the other topics. Thanks.


Last edited by SH_Staff on Wed Aug 02, 2017 9:28 pm; edited 23 times in total