You thanked this post! -
Thanks received by this post:
Message reputation : 100% (1 vote)
I thought I might share some information about Seattle.
I've made a few assumptions while doing so. First, you are either coming from the Vancouver show, or are flying in from elsewhere. Second, you are not super rich. Third, you will not rent a car. Fourth, you will be leaving for Los Angeles asap.
1. I've been here for 35 years, and Seattle has gone from lively to vibrant to gritty, and is now a complete dump. My suggestions will bear that in mind.
2. It is possible to go from Sea-Tac airport directly to the Neptune Theatre by 'Link Light Rail" and the cost is like $3.25 one way. The area around the venue is pretty normal, and near the University. How to kill time before the show I will address later. One thing to note: Do not confuse the "University St. Station" (no) with the "U District Station" (yes). You'll end up downtown and very confused.
3. Accommodations are really expensive. Flights to LA start at 6am following the show. It might be worth while to just head right back to the airport after the show and wait it out. The light rail runs until midnight or so. Inexpensive motels near the airport are a bit creepy. Of course, any name-brand motel will be pretty good, and a bus runs all along the main airport area road (Pacific Highway/Hwy 99) The farther north along Pacific Hwy you go, the more likely your neighbor will be a drug dealer or prostitute. Shop with care and read lots of reviews! Downtown is expensive too. Near the venue, the College Inn has good reviews. The area is pretty safe. Do not go for anything on Highway 99 north, if you're driving. More undesirables. One idea I had was to book out of town and take a bus to the venue. There is a Motel 6 and a Quality Inn on I-90 east of town, both pretty inexpensive, both in good areas, and both on the 271 bus line, which goes (eventually, like in an hour) to the venue. It runs until pretty late as well. Getting to the airport from there is a 90 minute hassle, but it might be worth it if you're looking to save money.
Update: A Trip Advisor search for "Seatac" hotels with free airport shuttles and 4 star ratings might be a good way to search for a hotel. La Quinta Inn comes up as a possible choice. It's close to the bus stop to get to the light rail station, but it's also in walking distance. It might be noisy, but well trafficked, so probably pretty safe.
4, Buses are $2.75 and they don't make change. An "Orca" card loaded with a day pass isn't worth it, since it's not for 24 hours, it's only good the day you buy it until 3am.  There is a phone app that might work best for you.
https://kingcounty.gov/depts/transportation/metro/fares-orca/transit-go-ticket.aspx
Masks are currently required, and supplied if needed. They usually run on time. Google Maps can tell you wait times for buses, so yay.
5. I was going to suggest plenty of cool stuff to look at in Seattle during your visit, but the town is such a dump now, I've changed my mind. I will, however suggest a neighborhood close to the venue and accessible by bus. and that is Fremont. It's still got the old Seattle vibe, like goofy and relaxed. A couple of big tech companies have offices along the water, which helps. Scandal's first Seattle gig was at the High Dive, which is in this neighborhood. Also a good t-shirt shop that sells shirts from local bars and businesses. Also, bars, a vintage mall, a record shop, two music stores, a chocolate factory, and a pretty canal connecting fresh and salt water bodies of, uh, water. The neighborhood is very Seattle-like.
If you insist on going downtown, the waterfront is really pretty is summer. First avenue is fun, Second avenue is funky, Third is a war-zone, Fourth is nice, and 5th up are cool and trendy. If you want, I can suggest other stuff, historical, Japanese, photo ops, whatever.
6. I made a map showing all this stuff here:
https://www.google.com/maps/d/viewer?mid=1wNAGtxWIq5Oz2gLRHuAC_OfE6HcYH1Cs&ll=47.633073684996475%2C-122.34885735&z=13
6a. I made a map to send the Scandal staff of the walking tour of the Fremont neighborhood. Some of it is in Japanese (via Google Translate) but you might find it useful as well. It's a mile walk. Add another mile or less if you visit Gasworks Park on the way (recommended)
https://www.google.com/maps/d/viewer?hl=en&mid=1bga00d9d__rL8XVMwftyRl-k-1oN1T7l&ll=47.65334355628934%2C-122.3354732271479&z=15
If you take the bus from near the Neptune, take the 44 bus to the Chevron station at Woodlawn Ave and change to the 62. If you want to visit Gasworks Park, get off at 34th and Stone Way. Make sure to get a transfer so you can continue your trip for free.
7. If there is anything I've left out, or you have questions, do not hesitate to post. Keep in mind I'm too old to run from trouble, so my opinion of Seattle is not the same as someone young and brave. It's probably not as bad as I make it out to be. Also, if you've got some bucks, I can suggest other hotels and eating places. Welcome.
---
Update: Our new mayor has started cleaning up high-crime areas, so I'm more comfortable about encouraging visitors to venture downtown. I will add more possibly interesting sites on the map. Below is the canal in Freemont, the first part of the walking tour.
---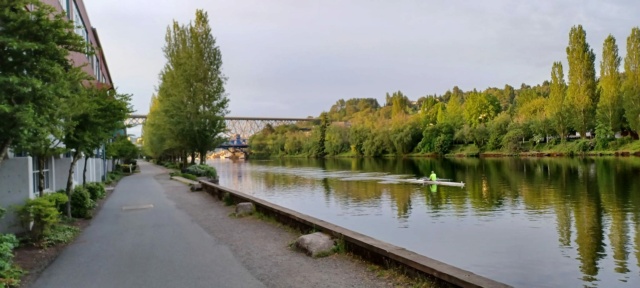 Last edited by hogradish on Sun Jun 05, 2022 2:07 pm; edited 10 times in total (Reason for editing : sentence structure, spelling, phone app link, improved map link, link station clarification, photo, more hotel info)