I am pretty sure every one has heard of Scandal new single and its getting release on 07/11 - Taiyo Scandalous
Anyway i am thinking of holding a mass order for this single for people who wants to share shipping cost or unable to buy due to no debit/credit card. Good thing about buying 1st press edition is that there are usually goodies like tin badge or stickers.
Right now is just an interest check to see how many people want as up till now i only know that there will be 3 versions, song track and all has not been released yet.
I will be ordering from CdJapan and usually their goodie is a tin badge.
Taiyo Scandalous Special Band edition : http://www.cdjapan.co.jp/detailview.html?KEY=ESCL-3926
Taiyo Scandalous Special edition A : http://www.cdjapan.co.jp/detailview.html?KEY=ESCL-3924
Taiyo Scandalous Special edition B : http://www.cdjapan.co.jp/detailview.html?KEY=ESCL-3925
Again I am not going to order now. This is just an interest check for now. I have no idea which one i am going to get as i have no idea what other type of track is in each edition.
And just to let you guys know i will be ordering by EMS. Why i choose EMS is because recently my order was so amazing. I received my package 1st before CdJapan actually sent me the confirmation email that they have posted out my order
Do note that if this MO is going to go through, i will be collecting all the money first before i order.
And i am sorry to other countries member >.< This is strictly within Singapore only.
Side note : As you guys have known, scandal has an international official goods store now. If anybody is interested and want me to start can let me know. If there is alot of people interested i will hold it in a separate thread. And another thing, if you want to order other CD's i am more than willing to add it in the order. However, the CD will arrive on the same date as Taiyo Scandalous release date.
Please note that i will stop all order's on 15th. Payment will be collected on 16-17th and i will order on 18th.
Band edition :
luckless x1

Reuiem.Sonores x1 (PAID)

Special Edition A :
luckless x1
eremus123 x1
Kaishun x1
Special Edition B :
Kaishun x1
ORDER CLOSED
RinaRina - No contact. Cancelled
Ordered!

Per single = $22 (This is just a average, it could cost more or less)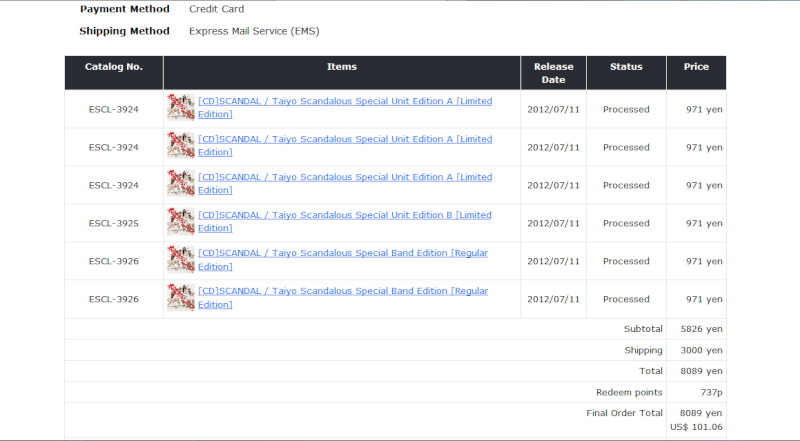 Last edited by luCkLEsS on Tue Jun 19, 2012 4:17 pm; edited 13 times in total