You thanked this post! -
Thanks received by this post:
Message reputation : 100% (3 votes)
Since I've noticed that there has been a lot of fan-fictions and other writings on the member discussions, I've decided to allocate a sub-forum for it which will contain member writings in general. That decision made me do some forum changes...
-------------------------
The
"Picture Gallery"
forum will now be renamed to
"Member Creations"

-
Member Creations
: generally contains stuffs created by members that can be shared here, i.e. graphics, drawings, fan-fictions, poems, original lyrics, etc.
Under Member Creations are two sub-forums, "Member Writings" and "SCANDAL ART"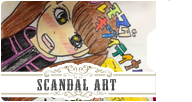 -
Member Writings
: contains writings by members.
-
SCANDAL ART
: the usual SCANDAL ART that contains only SCANDAL fan-arts
These two have their own sub-forum since their topic numbers deserves it.
Any other creations that doesn't fall under these two will just be posted under Member Creations.
-------------------------
And also the Member Gallery is now moved under Members Discussions

-
Member Gallery
: contains only member related pictures, from their faces to the stuffs they use.
And that's all for the changes~