It's been a week since the band's concert in my hometown, so I want to share you my experience. Sorry if my grammar is bad u.u'
It was like 4:30 - 5:00 in the afternoon, I had hours standing in line to have a good place at the concert; suddenly a staff member comes and approaches me and said "come with me". Honestly I thought that maybe they needed help or something because days before I had seen in facebook that they were in need of staff, but something inside me also told me that something magical was going to happen hahaha. I accompany the staff guy to one of the doors of the venue, he gives me a special badge and I follow him.
We go in, we went down some stairs and immediately I saw Tomomi practicing with her bass
 . She greet us and then I went down another stairs that give from the stage to the area where the audience is going, the staff guy accommodates me there and then he gave me some instructions.
I couldn't believe it, there were the four members in their soundcheck! being honest, I remembered all those behind the scenes videos that I had seen on the DVDs.
They spent about half an hour rehearsing some of the songs that they were about to play at the concert. I observed how the girls changed instruments every time and between song and song they talked a little with their staff and among themselves about technical issues; I have to admit that despite not knowing Japanese, I understood more or less what it was about.
I didn't really believe it, I had been In front of them 3 years ago, but not at that level! I have to admit that I pinched myself several times haha. SCANDAL left the stage and the staff of Japan was in charge of the instruments now, the guy from LoveJapan told me that it was time to return to the line.
We were up the stairs to go out and there they were ... Haruna, Mami, Tomomi and Rina, chatting among them, they saw us and the staff guy explained in Japanese to the girls about what was happening. They smiled at me, I was stiff hahaha my emotions were mixed, I didn't know how to react and I smiled at them; Rina approaches me and says something to me but since I didn't understand her she came a little closer and told me that in my ear (I honestly still did not understand her xD).
I told them a little about me. I know how to say "my name is ..." in japanese but I don't know what the hell happened! I was even short of telling them that but in korean LOL. But, anyway, the girls understood me despite my clumsy Japanese and I told them "My name is Andrea", the four of them repeated my name in a very beautiful way.
I told the girls about how I had met them, that it was since Love Survive and they were very surprised, they asked me if I had attended the 2015 concert and I answered "yes", I even told them my reaction when I saw them, I also told them that I had studied acting (That surprised Haruna a lot, I was about to faint, well, she's my favorite member since always).
After a little chat with the girls it was finally time to return to the line; Immediately leaving all those who witnessed my abduction flooded me with an avalanche of questions. As much as I tried to tell my experience they didn't understand me, well you know how it feels when you are very excited and don't know how to express it.
This does not end here, ending the concert it was the turn of the VIPs to have our picture with the band. When it was my turn, the four of them said excitedly: "Andrea!" THE GIRLS REMEMBERED MY NAME! OMG!. The staff took the picture and I said goodbye to them.
It was an amazing experience, some guys from México City still not believe this story and I was really upset for that, but it's something that I really didn't expect and it makes me fall in love more with the band.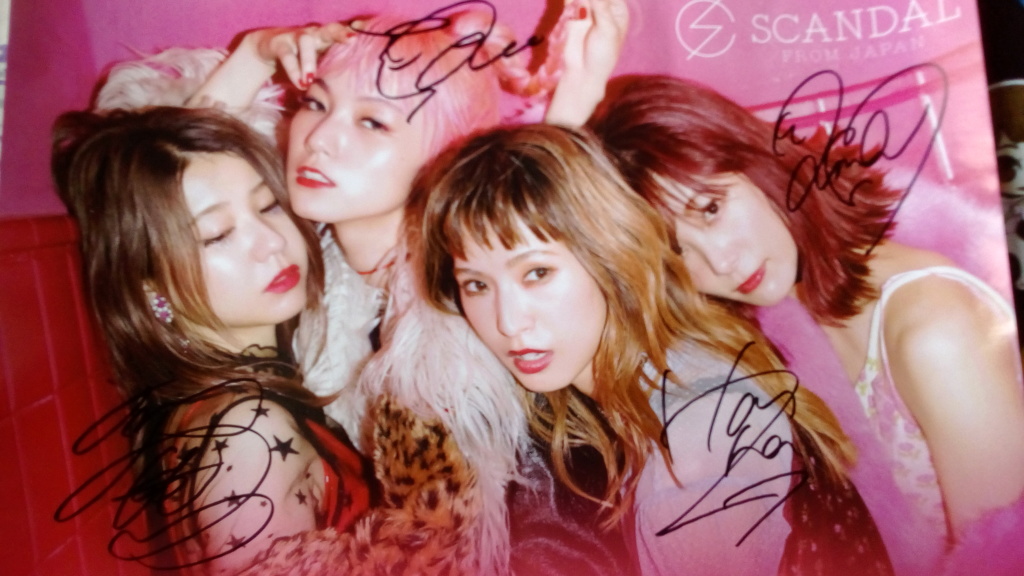 Last edited by HaruTastic on Wed Sep 19, 2018 8:16 pm; edited 2 times in total (Reason for editing : I forgot the picture that I wanted to post)