You thanked this post! -
Thanks received by this post:
Message reputation : 100% (3 votes)
I found an interesting thread in
Miwa Magic
as posted by HTMSD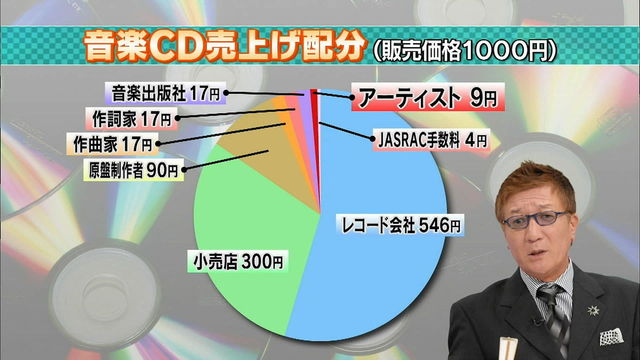 (pics credit to RiP70R)
アーティスト (Artist) : 9 yen (0.9%)
作詞家 (Lyricist) : 17 yen (1.7%)
作曲家 (Composer) : 17 yen (1.7%)
レコード会社 (Record Label) : 546 yen (54.6%)
原盤制作者 (Master Creator)* : 90 yen (9%)
音楽出版社 (Music Publisher)** : 17 yen (1.7%)
JASRAC*** : 4 yen (0.4%)
小売店 (Retail store) : 300 yen (30%)
*I found out in google that it could be translated as (レコード製作者) aka. Record / CD Production Cost
**
Music publisher
The company that responsible for promotion, etc.
*** Japanese Society for Rights of Authors, Composers and Publishers (http://www.jasrac.or.jp)
source:
http://w11.zetaboards.com/Miwa_Magic/topic/8309184/1/#new
So basically Scandal being a four piece band will have to divide the 0.9% artist share among themselves
In a four song single if one of the members is a Lyricist she will have a cut at the 1.7% of the Lyricist share that is 0.425% ( 1.7%/4).
In a four song single if one of the members is a Composer she will have a cut at the 1.7% of the Composer share that is 0.425% ( 1.7%/4).
For further illustration Let's use the Oricon week 1 sales of
Taiyou Scandalous
and only assuming that all of it are from the Regular Edition and a Dollor Exchange Rate of
1.00 JPY = 0.0112576 USD
According to the wiki page the
Composer / Music is NAOTO,
Lyrics by HARUNA/ NAOTO
Week 1 sales
31,583 units x ¥1,020 = ¥32,214,660 ($362,598.92)
Artist Share
¥32,214,660 x 0.9% = ¥289,934.94 ($3,264.95) Scandal's Share for week 1
divided by four, each member will receive ¥72,483.74 ($816.16)
Naoto will receive ¥547,649.22 ($6,166.75) as being the composer (¥32,214,660 x 1.7%)
plus ¥273,824.61 for being co Lyricist ((1.8%/2)x(¥32,214,660)). His total earnings ¥821,473.83 ($9,242.8430)
and Haruna will receive ¥273,824.61 aside form her artist share of ¥72,483.74 with a total of ¥346,307.61 ($3,897.084).
While Epic Records earned ¥17,589,204.36 ($197,917.02) more or less
The figures are in a case to case basis may be some record labels have higher rates for their artist and also relatively known artist can also demand a higher rate. This sample computation is only meant to give us a general idea of how much artists do earn from sales in comparison to those who are also involve in production.
1.)My area of concern is how much is the share of Scandal's management team? do they get a portion of the artist earnings (.09%)? hopefully not.
2.) Do artist get some regular salary / allowance from record labels while still in contract with them?
3.) I'm really curious with the guesting, and participation in music shows do they get paid or it's almost for free since they are promoting their materials?
4.) Do record labels get percentage shares with earning from live shows while the artist are still in contract with them?
5.) How much is the percentage share of TEAM SCANDAL (Eisuke and co.) in live shows, cd sales, etc?
So can't blame the girls when they loaded their schedule with live shows and tours because earnings from CD sales alone is relatively insufficient.
note: please do delete if already posted and also please notify me if there are big discrepancy in the figures really sleepy it's 5am