You thanked this post! -
Thanks received by this post:
Message reputation : 100% (4 votes)
spoiler:

東へ西へ

テーマ:RINA

昨日、今日と、TVやラジオの生放送などメンバーみんなでスタスタ動き回っています!

見てくれた方聴いてくれた方観覧来てくれた方皆さんありがとう!

いろんな所でENCORE SHOWの感想が聴けて刺激的です。

それに沢山の人が曲についての話や今の自分たちの気持ちに興味を持って聞いてくれるのも凄く嬉しい。

求められるって素敵。生きがい。

それからね、

ENCORE SHOWがオリコンデイリーチャート1位。

それから、ウィークリーは3位でした。

これは皆が作ってくれた記録で私たちの自信に繋がるエネルギー。

沢山の人に届けられたと思うと、

このタイミングでまとめられて良かったなあ、としみじみ。

オリジナルアルバムではないし、

正直驚いたよ。

うれしくってお母さんに電話したわ。笑

城ホールに向けて順調に全てがクレシェンドしてるね。素晴らしい。

部屋を掃除していたら懐かしいのが続々と出てきました。

インディーズ時代のアルバムとUSツアーダイジェスト。

楽器、知らん間にみんな上手くなったなー。笑

まだまだ全然やけど、

何でもまずやってみる。って、凄く良い事で新しい自分に出会える近道な気がするよ。

明日はバレンタイン。

告白予定のカールズを全力で応援している!ドキドキしてる女の子は世界一可愛いのだ!ファイト!

※おまけ

左から、TOMOMI、HARUNA、RINA、MAMI。

血圧みんなで測ったの。

...何してんねやろ。

RINA

2013-02-13 23:37:30
To East To West
Theme: RINA
Yesterday and today, we move around briskly on TV and radio live broadcast!
To everyone who listened and watch us, and came to see us, thank you!
It's stimulating to able to hear impressions about ENCORE SHOW in various places.
Lots of people talking about our songs, and I also very glad to hear that they interested to what we feel right now.
It's great to be able to pursue that. Purpose of life.
And then,
ENCORE SHOW reach No.1 in Oricon Daily Chart.
Third in Weekly Chart.
This is the energy that lead us to self-confidence in recording that we made.
I think it was able to reach lots of people,
And I'm glad we could put it all together by this timing, seriously.
It's not even an original album,
Honestly, I'm surprised.
I'm so happy and even called my mom to tell it. Lol.
Towards Jou-Hall, everything goes well and crescendo. Wonderful.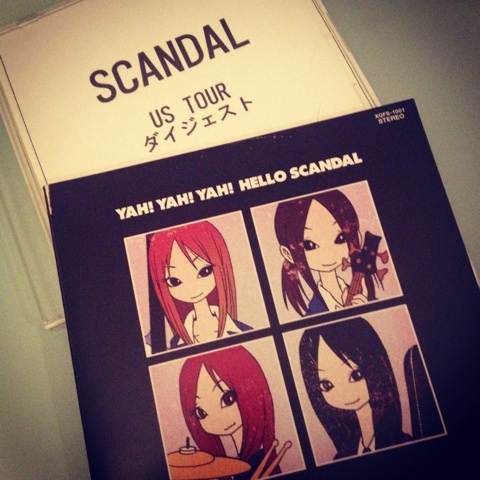 I had been cleaning my room, and one by one something that I missed popped out.
Our indies day album, and US Tour Digest.
From knowing nothing about instrument until became good on it. Lol
Though know nothing at all,
But we give anything a try at first. I realize it's a shortcut to meet our new-self, and it's a really good thing.
Tomorrow is Valentine.
To the girls that having a plan to confess, I'll support you with my whole energy! Girl with pounding heartbeat is the cutest in the world! Fight!
※Bonus
From left, TOMOMI、HARUNA、RINA、MAMI。
We just measured our blood pressure.
...Oh my.
RINA
2013-02-13 23:37:30