You thanked this post! -
Thanks received by this post:
Message reputation : 100% (7 votes)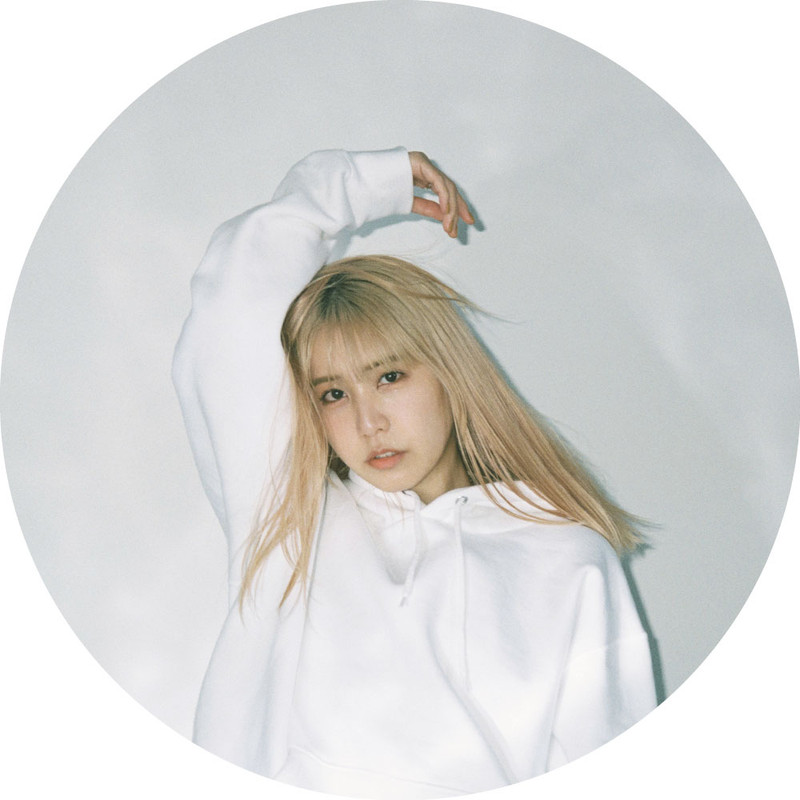 TOMOMI
(Bass Guitar & Vocals)
Pick of choice:
Custom Fender 346 Pick (However, most of the time she is fingerpicking)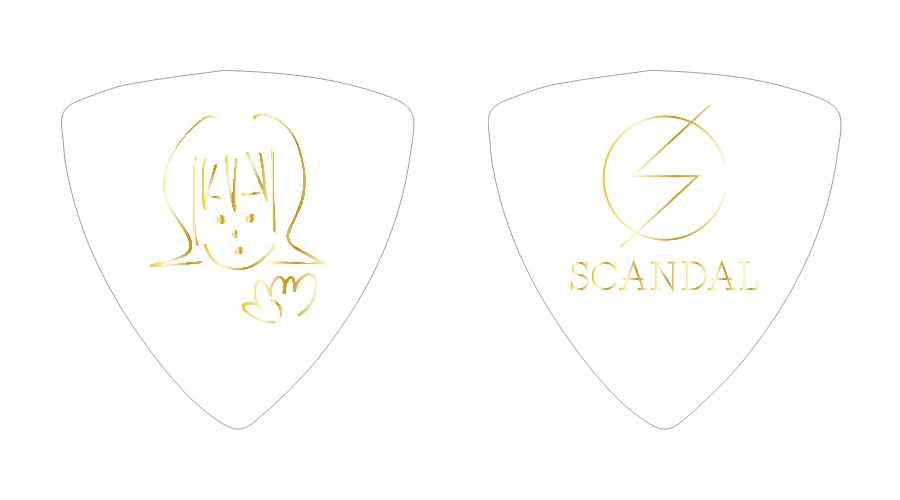 ---
Timeline of TOMOMI's Basses
---
Currently Using:
Fender TOMOMI JAZZ BASS (Clear Fiesta)
(August 21, 2021 - Present)
TOMO debuted this bass for the first time at SCANDAL's 15th anniversary concert on Aug. 21, 2021, though back then the color was "Fiesta Red."
On June 11, 2022, this model was officially announced as TOMO's new signature model bass and offered for preorder, releasing on Aug. 21, 2022.
TOMO's comments about the bass via
the official announcement
:
Because my previous signature model was a Precision Bass, I chose a Jazz Bass this time. I really like the original body color, the thing I was the most particular about, which was completed after many meetings with the Fender team! I also like the use of stack knobs from the early 60s, which I had wanted to use someday. It has a thick sound but has a modern neck, so although it has a powerful sound it is easy to play, and truly is an instrument that the best of everything! (TOMOMI)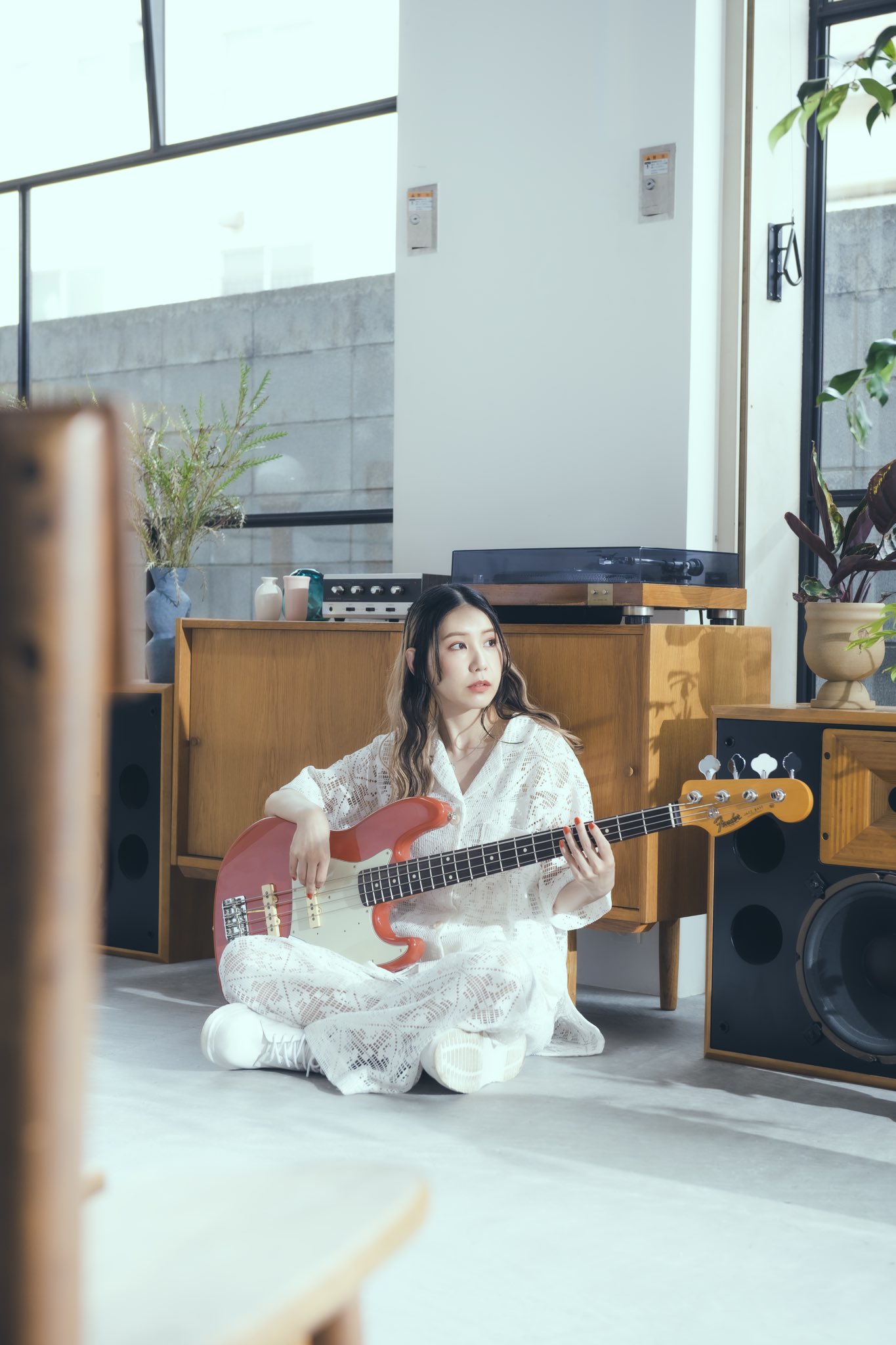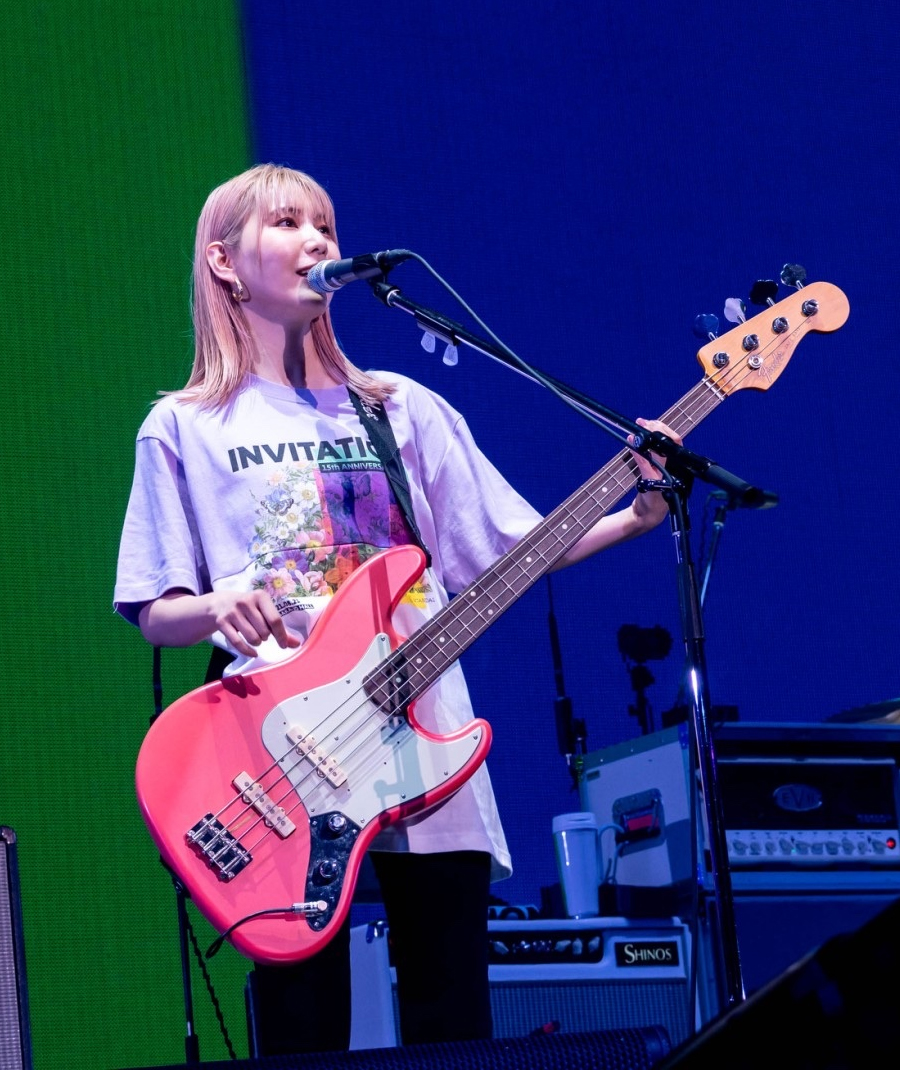 ---
Fender TOMOMI PRECISION BASS (Natural)
(August 21, 2017 - Present)
This bass features a mix of smooth natural and sunburst for the body and a red tortoiseshell pickguard. These latest custom Fender instruments debuted on
SCANDAL's Instagram
on Aug. 18, 2017, and made their official live debut at SCANDAL's 11th anniversary live on Aug. 21, 2017. She uses a
Fender 2" Monogrammed Strap in White/Brown/Yellow
with it.
TOMO's comments about the guitar from the Dec. 2017 issue of Go!Go! GUITAR:
The sound of the wood is great and has a sense of power to it. I stacked 60's vintage series for the pickups and bridge. Doing so I now have a bass with a fingerboard radius for the first time. For the color, I was particular in making it halfway between a smooth natural and sunburst, and red tortoiseshell for the pickguard. The knobs simply consist of just tone and volume.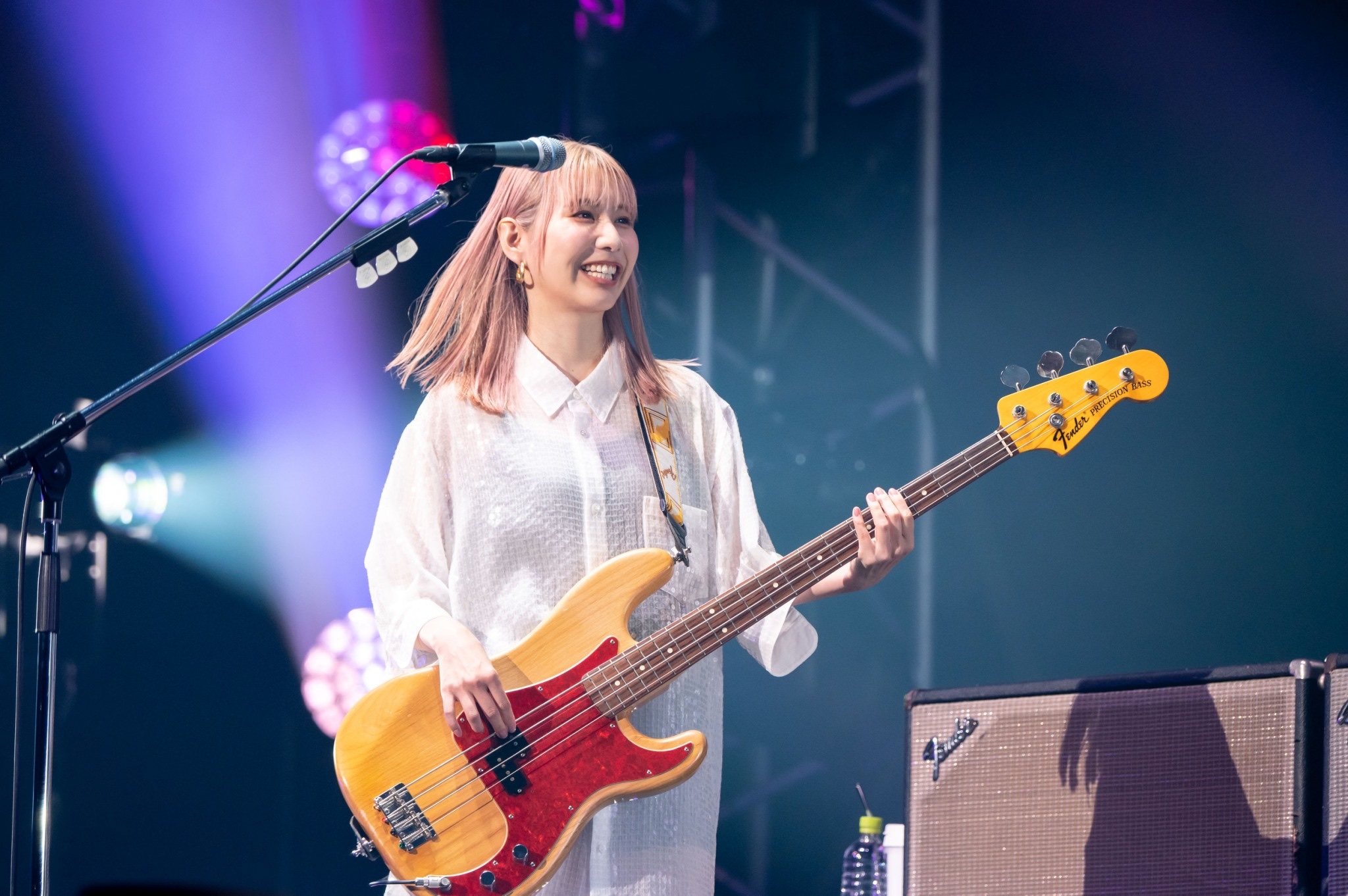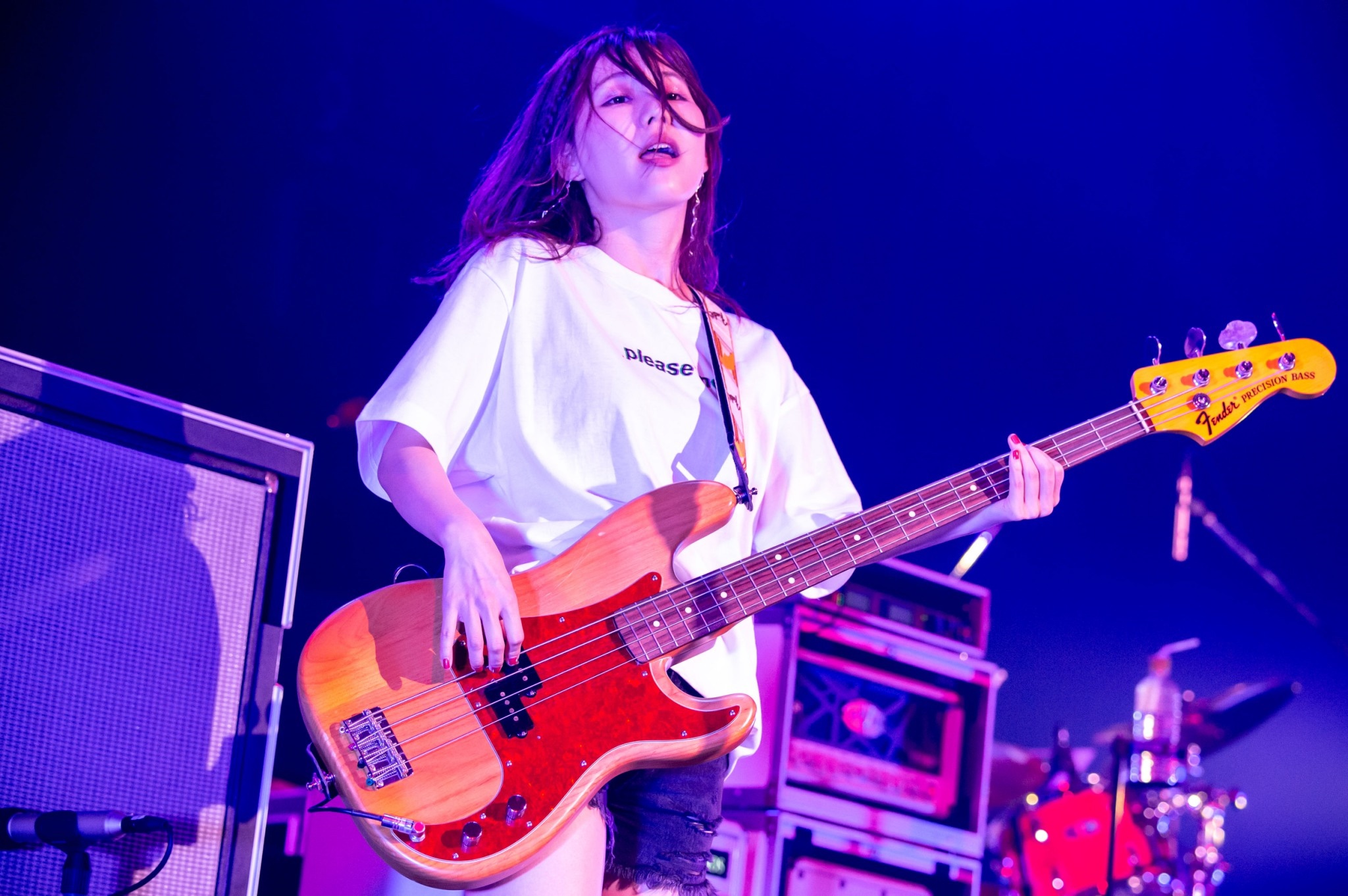 ---
Fender Deluxe Active Precision Bass (Navy Blue)
(December 23, 2012 - Present)
This bass is almost the same as Yuusuke-kun (red Jazz bass) except for the body and pickup arrangement. The bridge pickup is from the Jazz bass while the neck pickup is the standard Precision bass one. This enables it to produce more low end sound from the P-bass side and more brigher sound from the J-bass side. Body is alder, maple neck, rosewood fretboard, and pickguard is 1-ply beveled gold vinyl.
Made in Mexico
. She uses a
Fender 2" Monogrammed Strap in Black/Yellow/Brown
with it.
---
Fender American Professional II Jazz Bass (Mystic Surf Green)
(February 2021 - Present)
On Feb. 16, 2021, TOMO posted on Instagram about this bass in the color Mystic Surf Green. It made its concert debut on SCANDAL's "request" fan club tour in April 2021. She uses a
Fender Black Polyester Logo Strap in Black with White Logo
with it.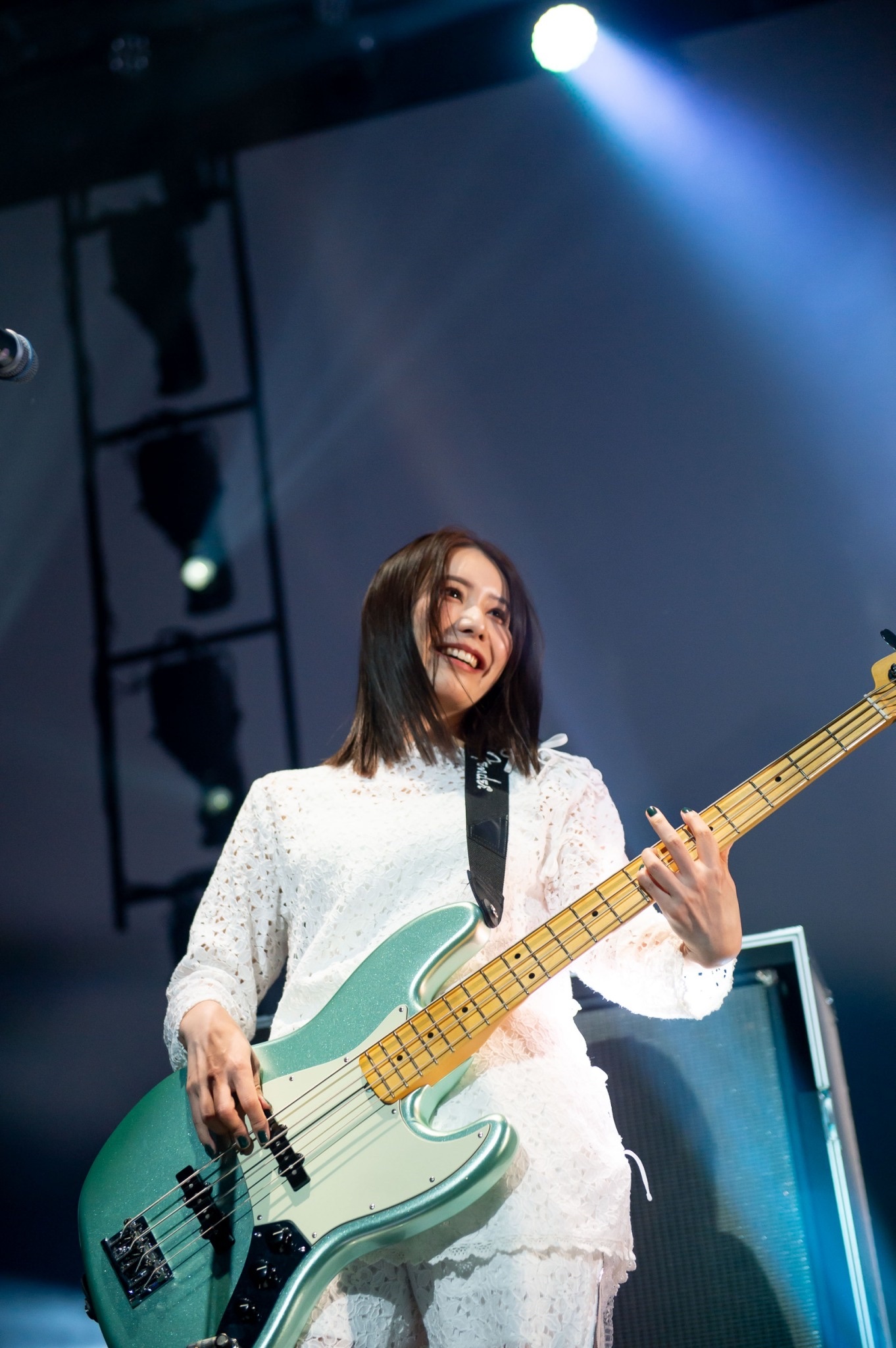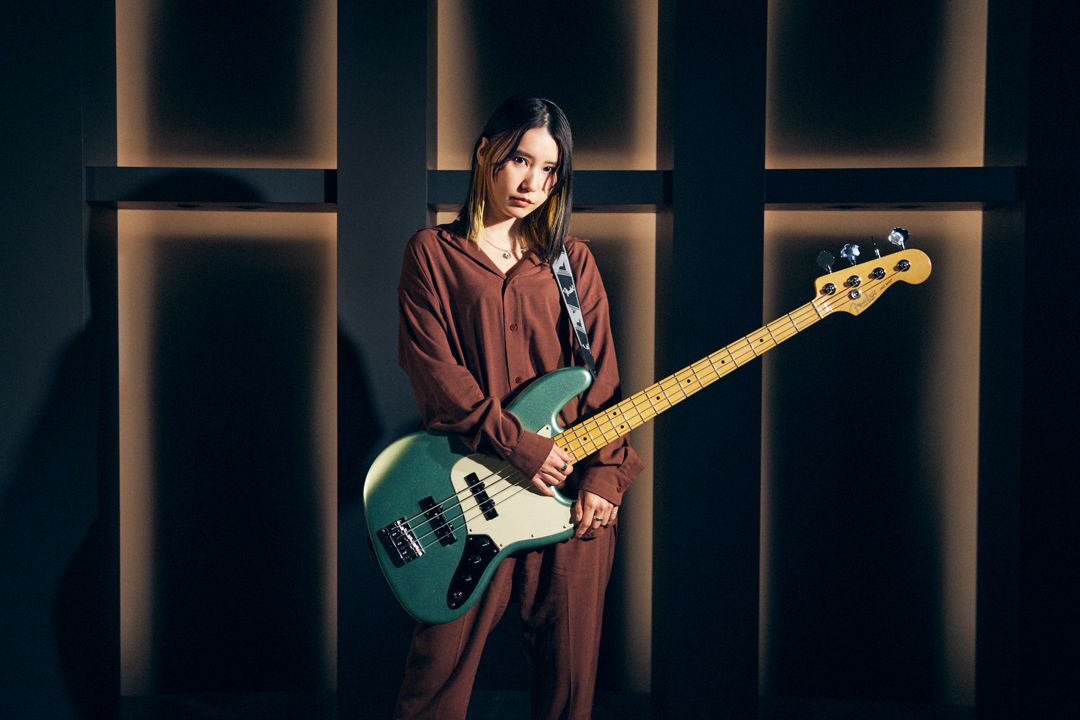 ---
Yamaha BB2024X (Vintage White)
(October 12, 2012 - Present)
Made its debut during SCANDAL's Queens are trumps tour in fall of 2012. She uses a
Fender 2" Monogrammed Strap in Black/Light Grey/Dark Grey
with it.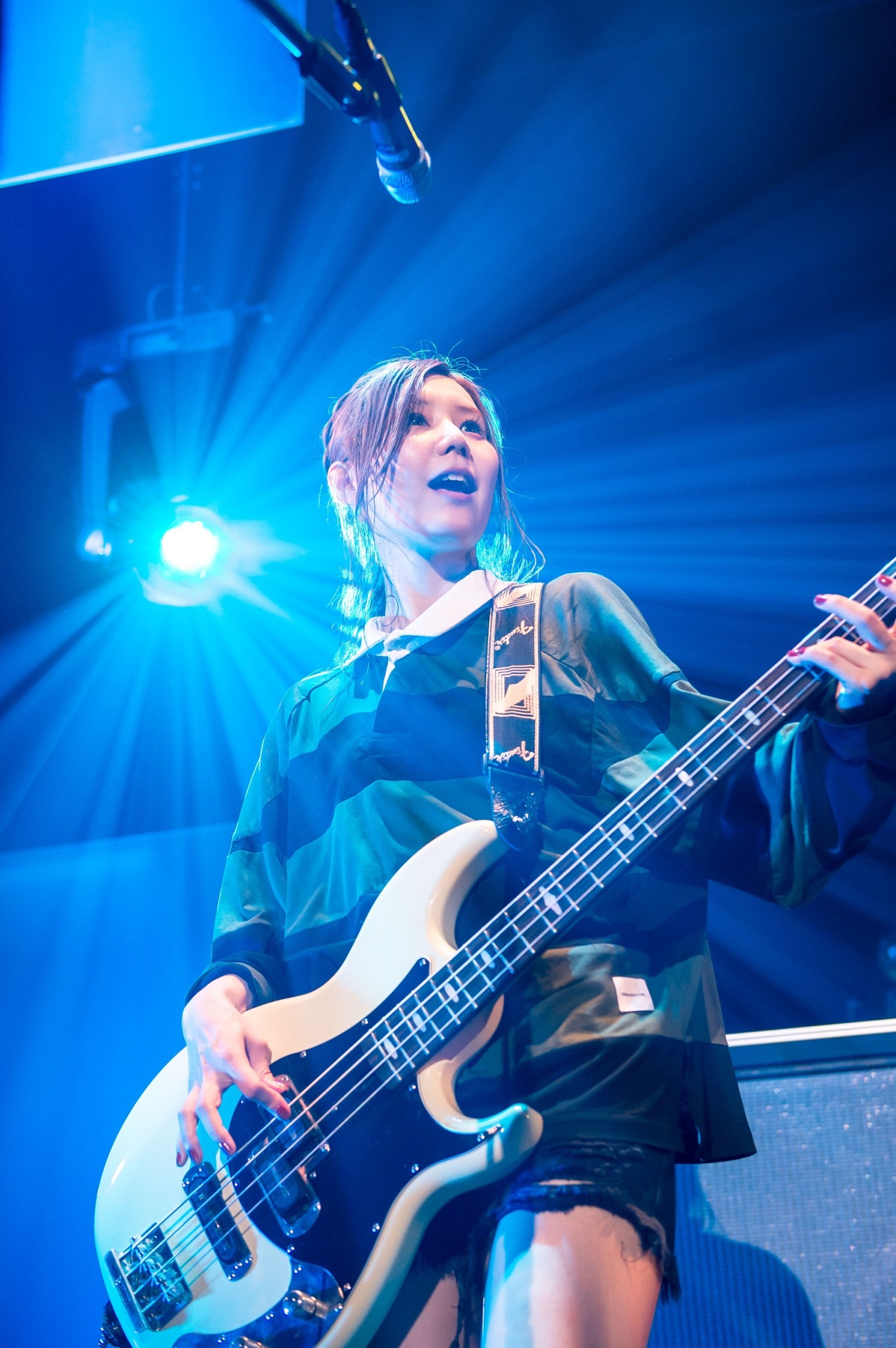 ---
Basses Not Used Anymore/Rarely Used:
Click here to view basses not used anymore/rarely used:
---
Effects Pedals
Last update:
January 2021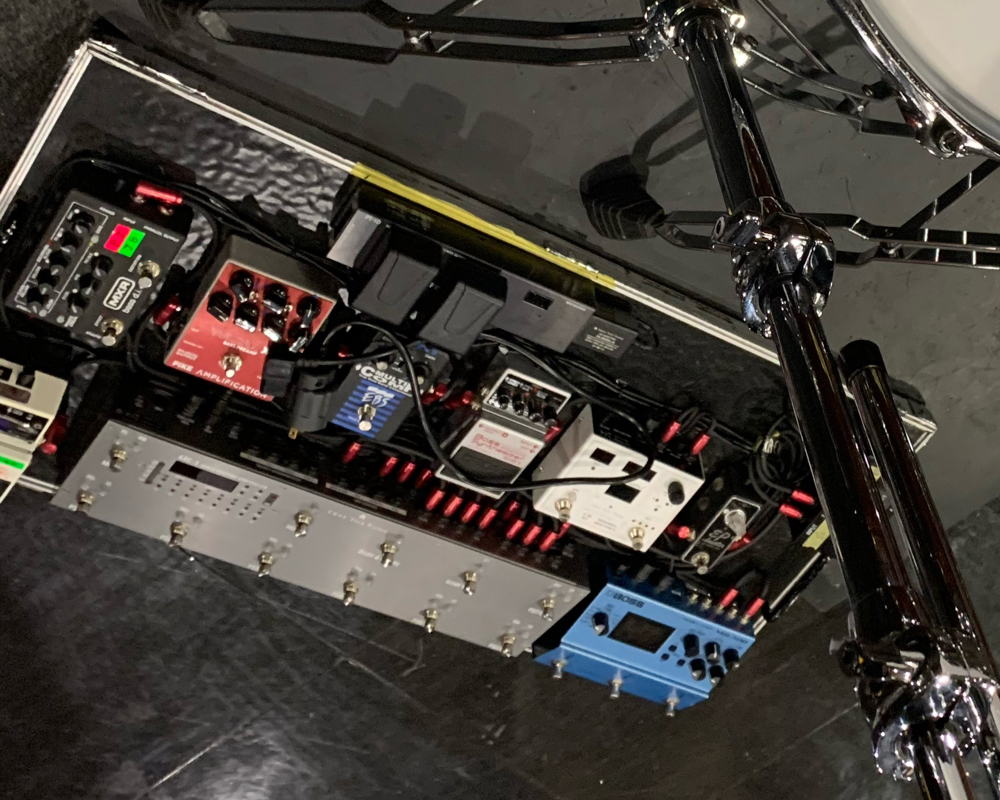 -MXR
M80 Bass D.I.+ Distortion
-Pike Amplification
Vulcan XL Bass Preamp
-EBS
MultiComp True Dual Band Compressor Pedal
-BOSS
SYB-5 Bass Synthesizer
-Free The Tone
PA-1QB Programmable Analog 10 Band EQ
-Xotic Effects
EP Booster
-BOSS
MD-500 Modulation
-Free The Tone
ARC-3 Audio Routing Controller
-BOSS
TU-2 Chromatic Tuner
---
Amps + Cables
April 2016: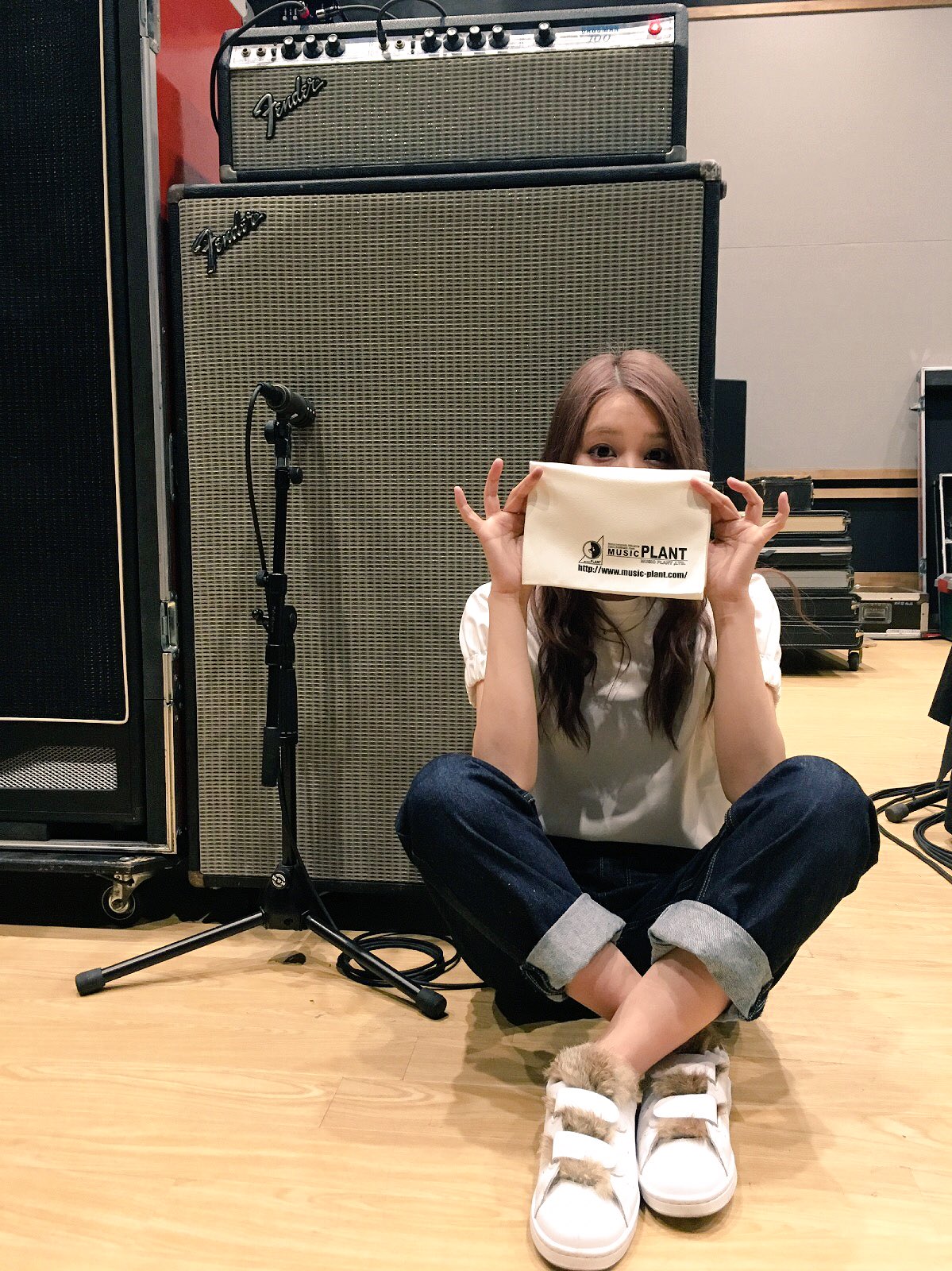 -Fender
Bassman 100
-Unconfirmed Fender cab but looks like a 6x10 one
-
VITAL AUDIO VAⅢ -Solid Bass Cable-
Previously used amps:
---
Accessories, other gear, etc.

Wireless Headset Microphone: Shure WBH54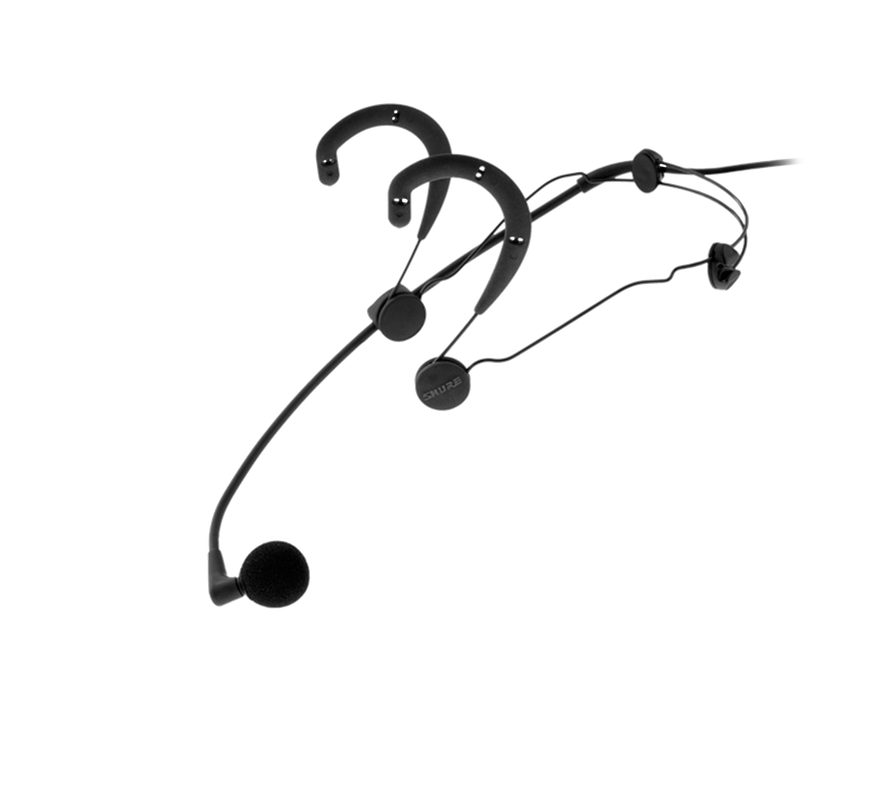 In-Ear Monitor:
FitEar ProAudio 334
As always, please keep forum rules in mind and direct any non-TOMOMI gear talk to the other topics. Thanks.


Last edited by thoseguiltyeyes on Mon Jan 30, 2017 11:09 pm; edited 24 times in total