You thanked this post! -
Thanks received by this post:
Message reputation : 100% (6 votes)
TOMOMI
(Bass Guitar & Vocals)
Pick of choice: Fender - Rock On Touring Pick 0.73mm (However, most of the time she is fingerpicking)
Currently Using:
Fender Custom Precision Bass
(August 2017 - present)
TOMO's newest bass, featuring a mix of smooth natural and sunburst for the body and a red tortoiseshell pickguard. These latest custom Fender instruments debuted on
SCANDAL's Instagram
on Aug. 18, 2017, and made their official live debut at SCANDAL's 11th anniversary live on Aug. 21, 2017.
TOMO's comments about the guitar from the Dec. 2017 issue of Go!Go! GUITAR:
The sound of the wood is great and has a sense of power to it. I stacked 60's vintage series for the pickups and bridge. Doing so I now have a bass with a fingerboard radius for the first time. For the color, I was particular in making it halfway between a smooth natural and sunburst, and red tortoiseshell for the pickguard. The knobs simply consist of just tone and volume.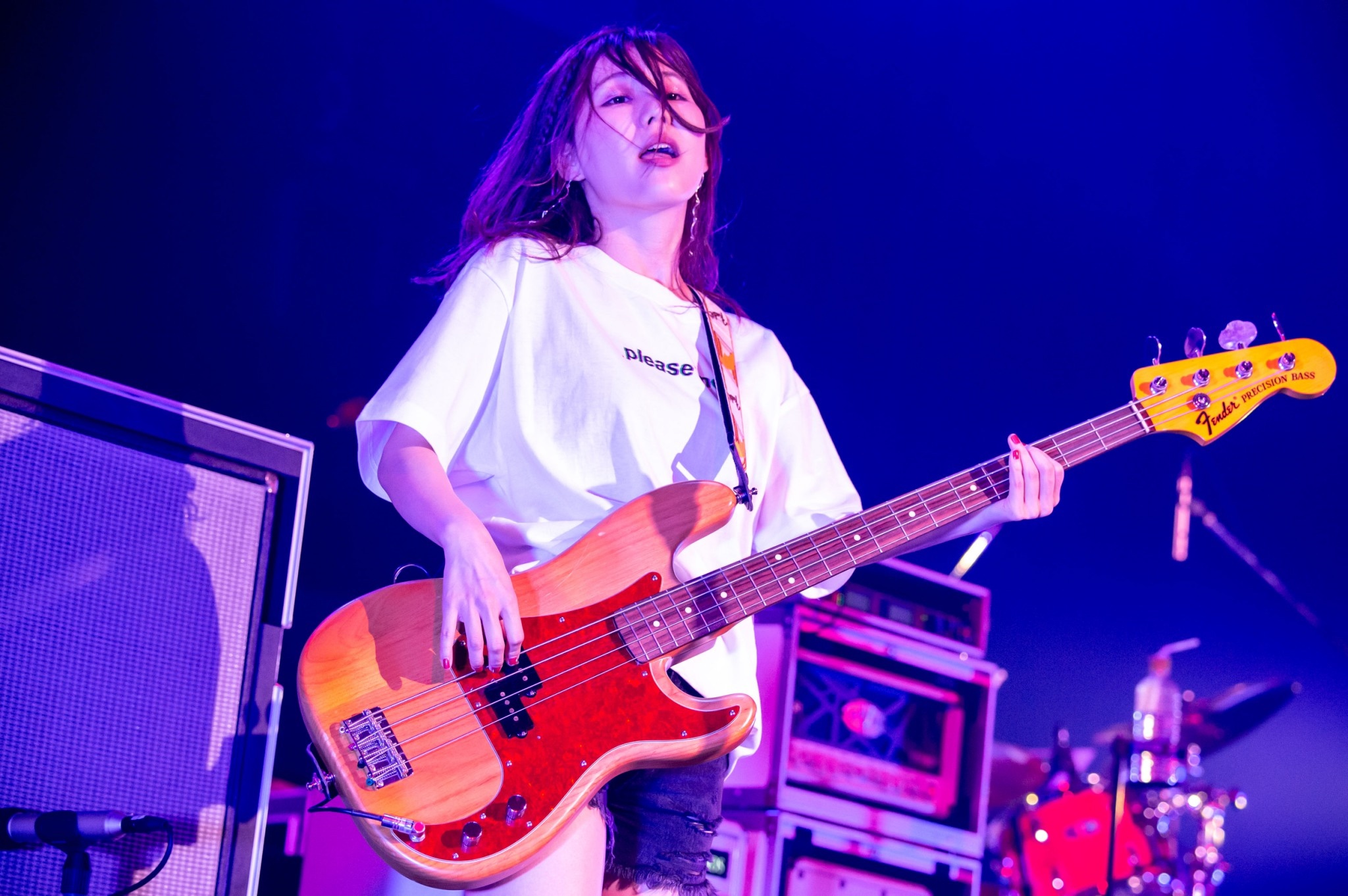 ---
Yamaha BB2024X
(November 2012 - present)
Made its debut during SCANDAL's Queens are trumps tour in fall of 2012.
Body: Alder-3P(A.R.E), bowlength:863.6 mm, over-all length: 1165.5mm
Neck: Maple+mahogany 5P(bolt-on), Fretboard: Rosewood 21Fret(250R),
Bridge: Vintage brass (brass saddle, steel plate)
Pickup: Split/Single coil (Alnico)x1, Bartype/Single Coil(Ceramic)x1
Function: Master Volume, Master Tone, 3P Toggle Switch, Nickel Hardware, finishing: BL/VSB/VW
Case: Hard Case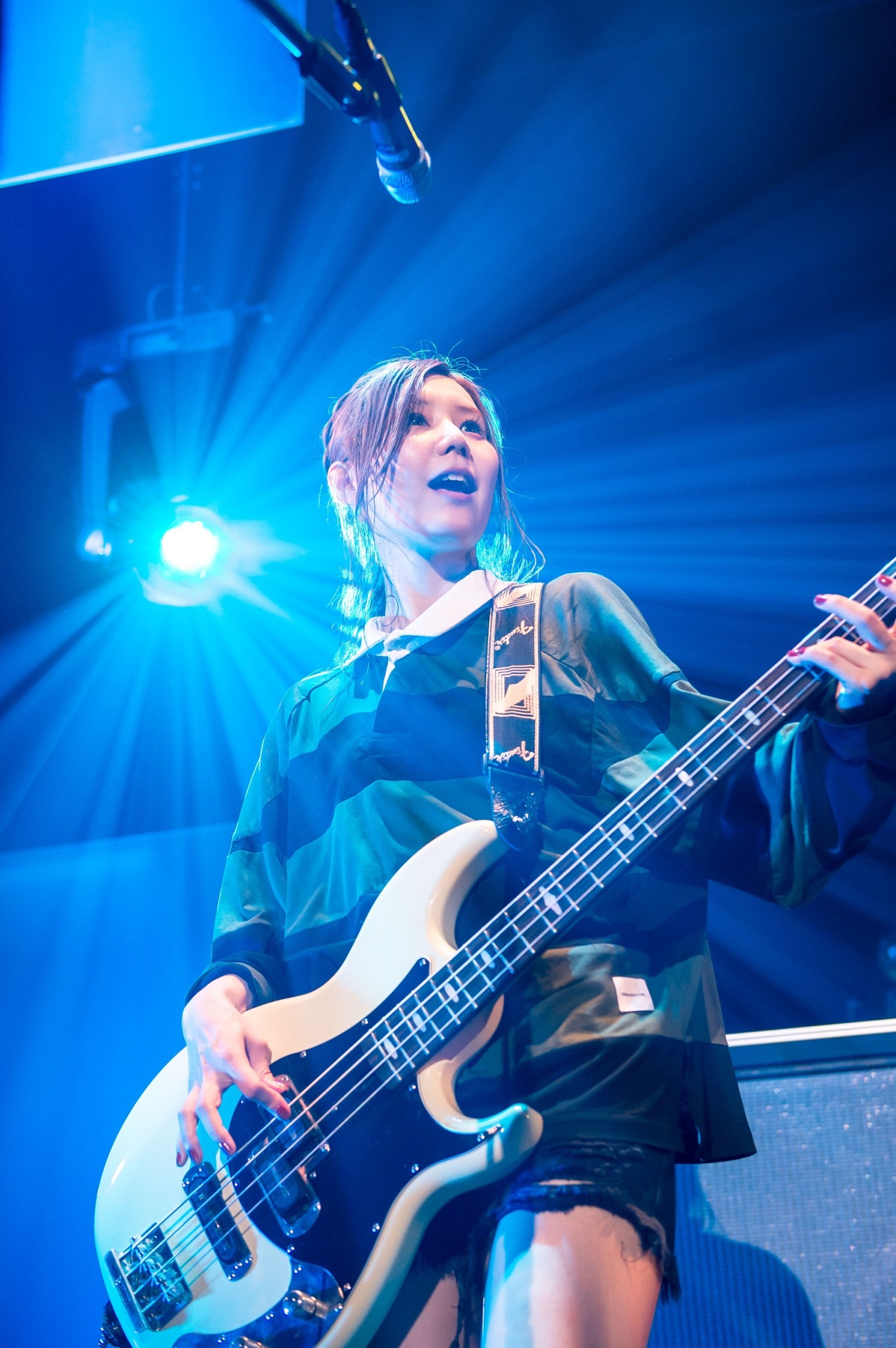 ---
Fender Deluxe Active Precision Bass
(December 2012; BEST★Xmas4 - present)
This was TOMOMI's second newest bass in 2012. Body is navy blue and, as usual, it was later given her signature stripes in a gold color to match the pickguard. This bass is almost the same as Yuusuke-kun (red Jazz bass) except for the body and pickup arrangement. The bridge pickup is from the Jazz bass while the neck pickup is the standard Precision bass one. This enables it to produce more low end sound from the P-bass side and more brigher sound from the J-bass side. Body is alder, maple neck, rosewood fretboard, and pickguard is 1-ply beveled gold vinyl.
Made in Mexico
.
---
Fender Made in Japan Modern Jazz Bass
(January? 2020 - present)
TOMO used this bass in black in SCANDAL's "
A.M.D.K.J.
" music video and has yet to debut it live. More info on the bass
here
.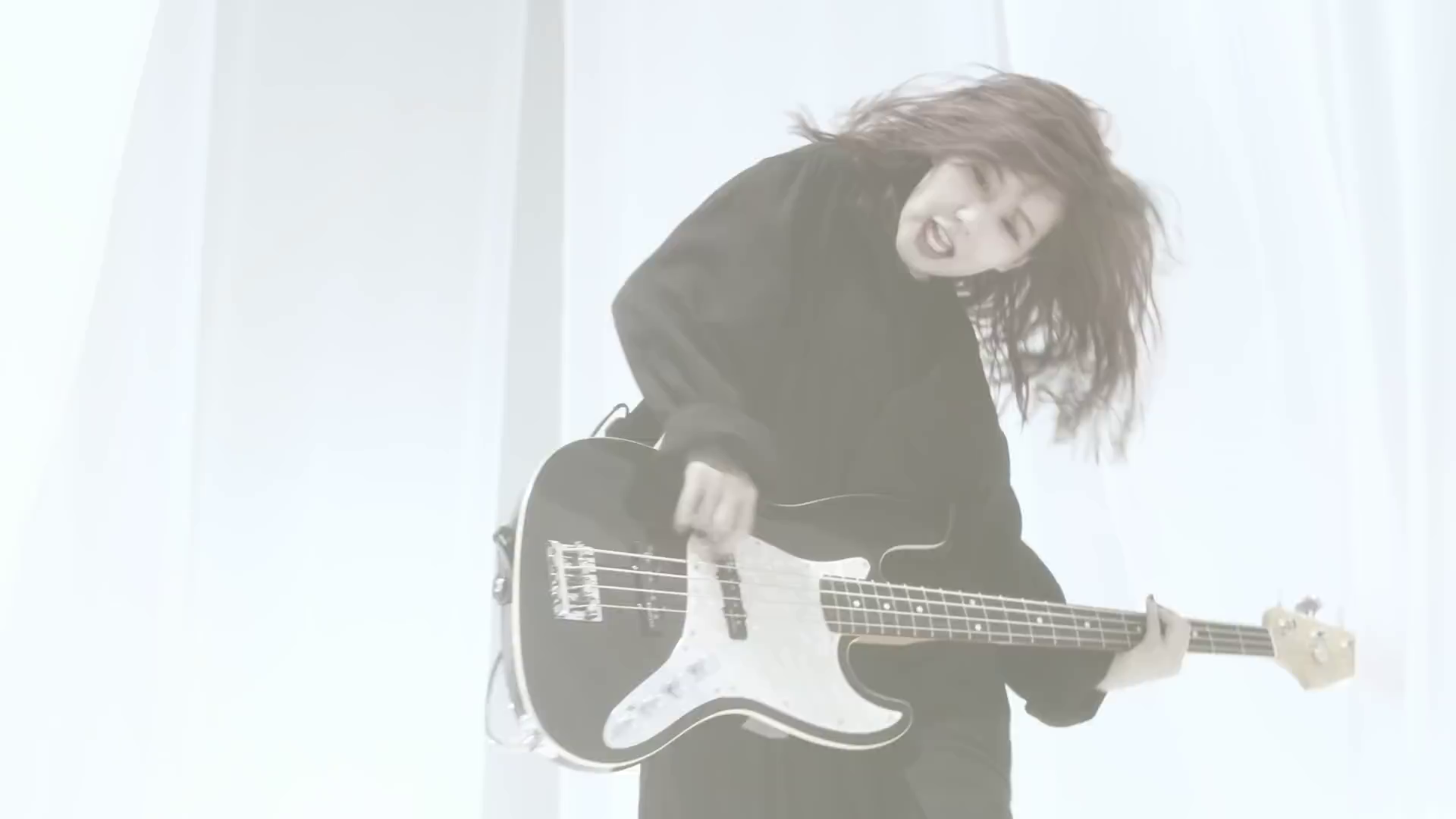 ---
Ernie Ball Music Man - 20th Anniversary StingRay Bass
(October 2013 - Present)
Making its debut on SCANDAL's
STANDARD
Tour, this was TOMOMI's newest bass for 2013. From GO!GO!Guitar magazine's article on the bass, TOMOMI says, "The top of the body is a quilted maple and the back is mahogany. It's a gem that's equipped with a 3-band active preamp on one pickup and outputs a strong, crisp sound." This kind of bass guitar was made in 1996, and approximately only 1250 were produced. They have a fairly aggressive tone great for slapping but also has that warm, vintage, jazzy sound.
---
Fender JMJ Road Worn Mustang Bass
(March? 2018 - Present)
Reports of TOMO using this bass began with the
HONEY
tour in early 2018, but photos of her playing it live were not posted until December 2019 when the band played at Fender Japan's year-end party. More info on the bass
here
.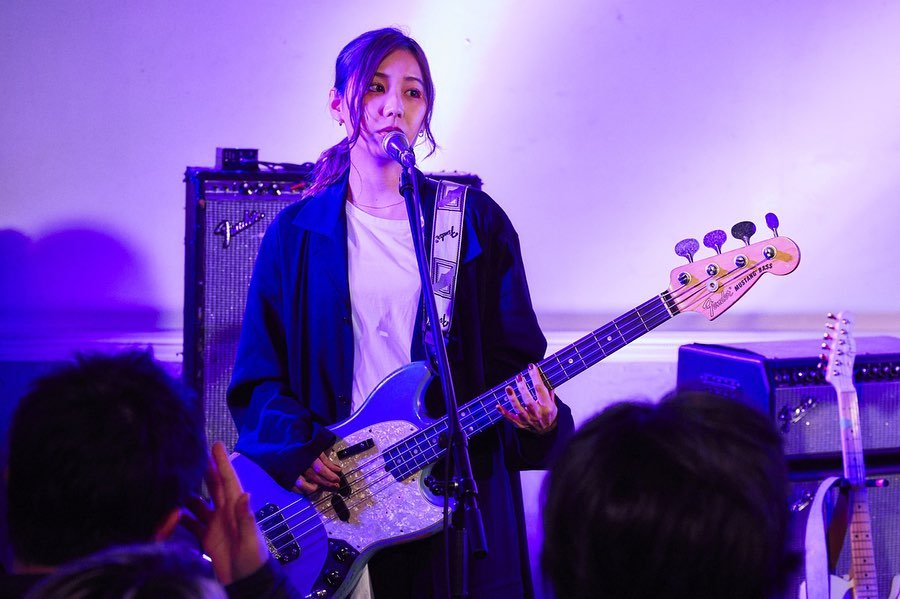 ---
Not Used Anymore/Used Rarely:
Click here to see basses that are not used anymore/rarely used:

Fender American Deluxe Jazz Bass

(Late 2008 - present; although used less often than before the P-bass was bought)

Nickname(s): Masaya-kun, then changed to Yuusuke-kun

This bass guitar has been used ever since the band's major label debut, and has been one of few basses that has been used regularly for such a long time frame. Candy Apple Red with a rosewood fretboard, black pearloid pickguard, and white racing stripes. There was some discussion about whether the stripe is a decal/sticker or it was painted on, but, due to the glossiness of the stripe, it has been agreed that it is indeed part of the paint job. The neck has been customized to be slightly smaller so that it is easier for TOMO to play those groovy bass lines. In 2013, TOMO had this bass sent off for some upgrades. It now sports a passive pickup arrangement with 3 knobs.

More shots of the Jazz Bass can be found

here

As a bonus, here's MAMI's drawing of Masaya-kun:

---

Fender American Standard Precision Bass -TOMOMI MODEL-

(TEMPTATION BOX Tour era - present)

Nickname: Sabao-kun

Debuting on her blog on September 10, 2010, this bass is super sparkly/shiny due to the custom paintjob on the body + the headstock. TOMOMI later customized the pickguard with a reflective chrome-style one. The signature racing stripes are in a blue-red-blue pattern. The nickname "Sabao" came from one of the suggestions to her Twitter when she asked fans to name her new bass.

More angles of the Precision Bass can be found

here

.

---

Squier by Fender「 TOMOMI JAZZ BASS SKY BLUE 」

(March 2012 - present)

Nickname: Bluetus

Made its debut at SCANDAL's Budokan live in 2012. It was made to be a kind of "fusion" between the Jazz and Precision basses in terms of weight and sound. Equipped with '62 vintage model pickups, an ashwood body, maple neck, and rosewood fretboard. This bass is a passive bass. There are 3 control knobs on the front for front + back volume and tone. TOMO's signature racing stripe is on this bass too, this time yellow in color. The pickguard has the white pearl pattern. It has been made available for consumers to purchase from summer 2014 onwards for 60,000 yen.

---

GIO Ibanez / GSR180SB

(2006 - 2008)

With a three-tone sunburst design, this bass looks like the first bass TOMO started out with. Since it is part of Ibanez's GIO series, it is fairly inexpensive and great for beginner bassists.

---

Fender Japan Jazz Bass Classic 70's Reissue / JB75-US

(2007 - 2008)

This bass was used more during SCANDAL's indie days, appearing in the PVs of "Space Ranger" and "Koi Moyou." Possibly a Classic 70's re-issue. During the Japan Expo in France, TOMO placed a handstand Smurf sticker on this bass to fit in with the French environment (the Smurfs cartoon originated in France). After the red J-bass was bought, this bass was pretty much put aside. However, it was recently seen in the "SCANDAL no Theme" PV from the BABY ACTION DVD (to keep with the theme of the band's "origins").

---

Fender (Squier?) Precision Bass

(Shoujo S PV & BEST★SCANDAL PB only)

TOMO had a white Precision bass for the shooting of the "Shoujo S" PV. This guitar was used only for the PV and later on for the

BEST★SCANDAL

photobook. During the week of March 25, 2011, this guitar along with the other two guitars used in the "Shoujo S" PV were

auctioned

. The winning bid for this guitar was ¥155,001. Out of the three guitars, this one appeared to be the least smashed up.

---

Fender II Coronado bass

(First seen in the SCANDAL MANIA Vol.3 bulletin - present)

Nicknane: Koro-tasu

Not much is known or seen about this bass (beside the color, which is Cherry Red) but TOMOMI does have it in her "main fleet" of basses. She has used it at least once live (OTODAMA SEA STUDIO 2012).

---

Fender American Deluxe Jazz Bass, black

(Dreamer Tour 2011)

TOMO has a black Jazz bass that she considers a "substitute" for her red Jazz bass. A racy

strap by Perris Leathers

is used on it. The only times she has played this live were on the Dreamer Tour in spring 2011. She also talked briefly about it in the

BABY ACTION

band score: "This is a substitute Jazz bass that has the same specs as my red one. Like the red one, the pick guard has been replaced with a black pearl one. The pickups are Samarium Cobalt Noiseless." The bass made an appearance in the promotional shoot for

STANDARD

in 2013, this time with a white pickguard.

---

ESP Original "Space" Bass

(July 2012 - present; reportedly used only once)

TOMO rarely uses her Custom ESP because the arrangement of the preamps makes the bass specialized on treble and growl sound, so the ESP is mainly suited more for heavy metal than pop rock. The arrangement of the pickups is the same with TOMO's Deluxe Active Precision Bass Special (PJ). The custom ESP is a full active bass.

She has only used this bass at the Band Yarou Yo! Vol.3 live on July 16, 2012. The lines connecting the stars and the stars themselves light up through LED lighting effects in the bass.
---
Pedals, amps, accessories, other gear, etc.
Last update: July 2019
Effects:
-MXR
Bass D.I.+
-Pike Amplification
Vulcan XL Bass Preamp
-BOSS
SYB-5
-EBS
MultiComp True Dual Band Compressor Pedal
-FREE THE TONE
PA-1QB
-BOSS
MD-500
-BOSS
TU-2 Chromatic Tuner
-FREE THE TONE
Audio Routing Controller ARC-3
-Xotic
EP Booster
March 2018:

March 2018

Effects

:

-MXR

Bass D.I.+

-Pike Amplification

Vulcan XL Bass Preamp

-EBS

MultiComp True Dual Band Compressor Pedal

-BOSS

SYB-5

-FREE THE TONE

PA-1QB

-BOSS

MD-500

-FREE THE TONE

Audio Routing Controller ARC-3

-BOSS

TU-2 Chromatic Tuner Signal Junction Box:

-FREE THE TONE

JB-41S
January 2016:

January 2016:

Effects

:

-TECH 21

SansAmp Bass Driver DI

-MXR

Ten Band Graphic EQ

-MXR

Bass D.I.+

-EBS

MultiComp True Dual Band Compressor Pedal

-BOSS

TU-2 Chromatic Tuner

-Fender

Sub-Lime Bass Fuzz Pedal

-Providence

PEC-2 Routing System

-BOSS

SYB-5
Ashdown NEO 810
Ashdown Evo III 500
VITAL AUDIO VAⅢ -Solid Bass Cable-
Ampeg
SVT-3PRO
rack mounted bass head
TOMOMI's amp setting:
Avalon U5 preamp
Wireless Headset Microphone: Shure WBH54
In-Ear Monitor:Mainly FitEar ProAudio 334As always, please keep forum rules in mind and direct any non-TOMOMI gear talk to the other topics. Thanks.


Last edited by thoseguiltyeyes on Mon Jan 30, 2017 11:09 pm; edited 24 times in total