You thanked this post! -
Thanks received by this post:
Message reputation : 100% (3 votes)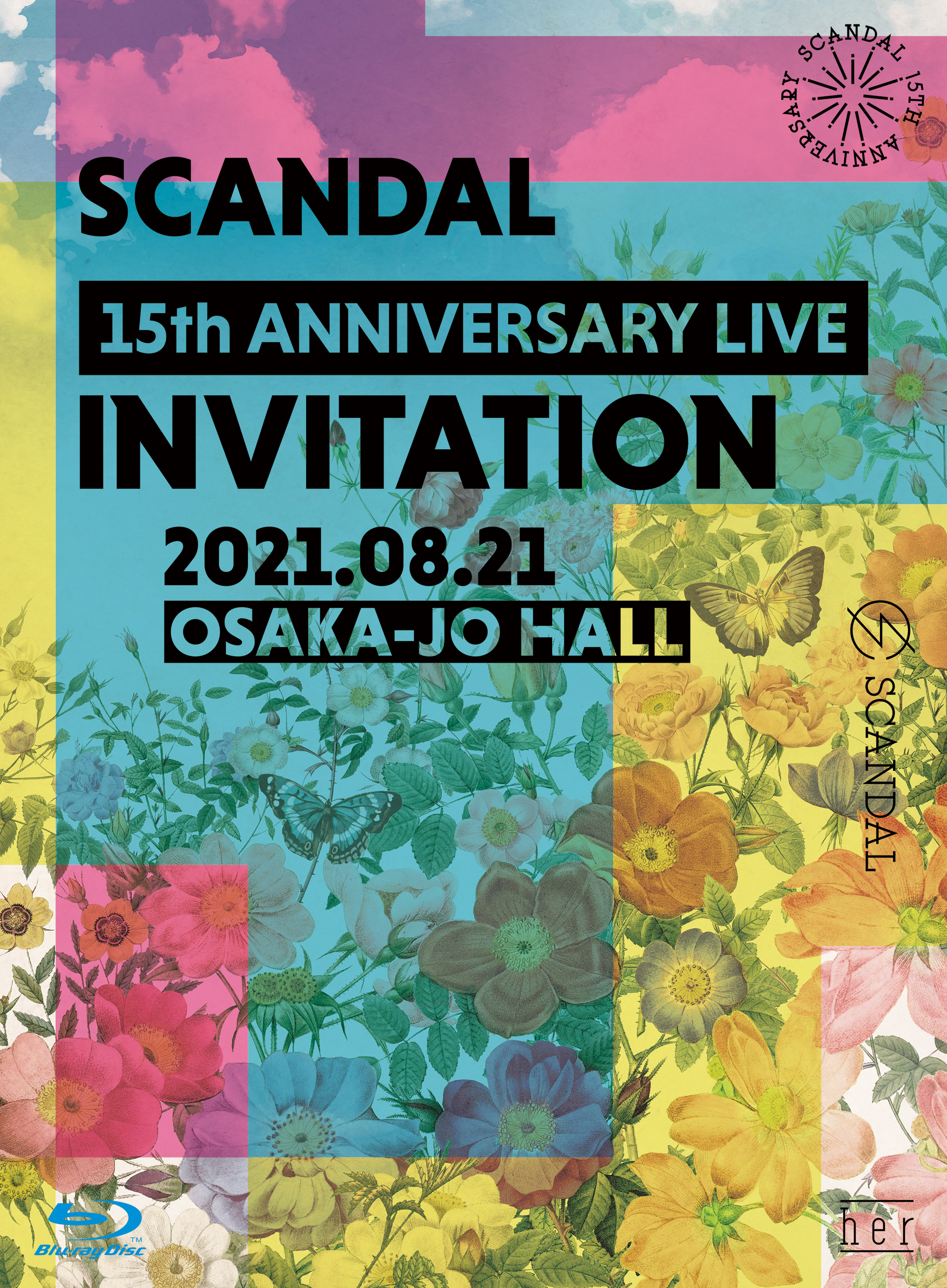 On November 24th, SCANDAL will be releasing their 15th anniversary concert on Blu-ray and DVD!
The Limited Editions will come in special packaging with two live CD discs containing all 19 songs from the setlist (includes the unreleased new songs), and a 56-page photo booklet filled with live photos from the concert.
It will come in a total of
four editions
:
■
Blu-ray Limited Edition w/ CD + Photo Booklet
■
Blu-ray Regular Edition 
■
DVD Limited Edition w/ CD + Photo Booklet
■
DVD Regular Edition
---
2021.11.24 (Wed) Release

LIVE Blu-ray&DVD
「SCANDAL 15th ANNIVERSARY LIVE 『INVITATION』 at OSAKA-JO HALL」<Blu-ray>Limited Edition

(Includes Blu-ray disc+2 audio CDs+Special photo booklet+Special packaging)

VIZL-1975/ 8,250 yen

Regular

(Includes Blu-ray disc only)

VIXL-361/6,000 yen

---

<DVD>Limited Edition

(Includes DVD disc+2 audio CDs+Special photo booklet+Special packaging)

VIZL-1976/ 7,150 yen

Regular

(Includes DVD disc only)

VIBL-1042/ 5,500 yen

---

【Recorded Content】■Live Blu-ray/DVD discs (All editions)

eternal

Kinenbi

SCANDAL BABY

Shunkan Sentimental

Saishuuheiki, Kimi

Ceramic Blue

Departure

Ao no Naru Yoru no Sukima de

Ivory

Koe

Tonight

Kagerou

A.M.D.K.J.

Take Me Out

Awanai Tsumori no, Genki de ne

Image

one piece

one more time

Masterpiece

■Live CD discs included in the Limited Editions (both Blu-ray & DVD)

eternal

Kinenbi

SCANDAL BABY

Shunkan Sentimental

Saishuuheiki, Kimi

Ceramic Blue

Departure

Ao no Naru Yoru no Sukima de

Ivory

Koe

Tonight

Kagerou

A.M.D.K.J.

Take Me Out

Awanai Tsumori no, Genki de ne

Image

one piece

one more time

Masterpiece
---
<Limited Edition Preorder Campaign Information>

Those who pre-order the Limited Editions at the participating chain stores/online sites during the preorder period will receive the following bonus.

[Applicable Products]

SCANDAL LIVE Blu-ray&DVD「SCANDAL 15th ANNIVERSARY LIVE『INVITATION』at OSAKA-JO HALL」 releasing on November 24, 2021

<Blu-ray>

Limited Edition (includes Blu-ray+2 CDs+Special photo booklet+Special packaging): VIZL-1975/ 8,250 yen

<DVD>

Limited Edition (includes DVD+2 CDs+Special photo booklet+Special packaging): VIZL-1976/ 7,150 yen

<Campaign Information>

An 『original mask holder』 will be given to those who preorder the applicable products during the pre-order period!

<Participating Stores>

・TOWER RECORDS stores nationwide / TOWER RECORDS ONLINE

・HMV stores nationwide / HMV & BOOKS online / Loppi terminals at Lawson and Ministop stores nationwide

・TSUTAYA RECORDS stores nationwide / TSUTAYA Online Shopping

・Amazon.co.jp

※On Amazon.co.jp, separate listings with the bonuses will be posted. Customers looking for the bonuses should purchase the products that are specified to come with the bonuses.

・Rakuten Books

※On Rakuten Books, separate listings with the bonuses will be posted. Customers looking for the bonuses should purchase the products that are specified to come with the bonuses.

・WonderGOO/Shinseido (excluding some stores)/Shinseido WonderGOO Rakuten Ichiba

・Yamano Musical Instruments Stores that offer CDs/DVDs

・

CD Japan

・Victor Online Store

<Preorder Period>

2021/9/1 (Wed) 19:00 ~ 2021/10/4 (Mon) 18:00

More information:

https://www.jvcmusic.co.jp/-/News/A026399/188.html
---
They are also giving out bonus stickers at different stores with the purchase of any edition. For example, if you purchase from
CD Japan
, you will receive the very last sticker listed on this (the purple one):
https://www.scandal-4.com/news/scandal-15th-anniversary-live-invitation-13/
#front-page