Go to page :

1, 2

Jikan~
International Performer

Love survive...

but hey I agree with you guys, One piece is good I'll play it too.
Our wedding will be SCANDALOUS
Joshua10red
International Performer

Secret base,..... Love survive......
                                                    ♫ ♪ "Life is a waste when you're all alone 
                                     My smiles and tears shine brighter because I have you" ♫ ♪
                                                                -Everybody Say Yeah!
hmmm....
One Piece .... Emotion ... Future...Secret Base or LOVE SURVIVE
My wedding must be SCANDALOUS!!!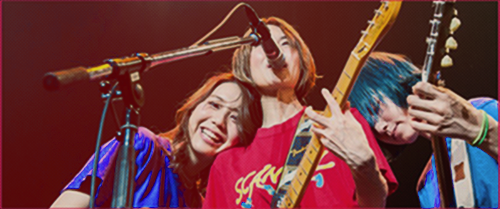 Don Dio
Mainstream Artist

I found this old thread and it made me chuckle.   It would have been very appropriate for Scandal music to have played at my wedding had they existed 15 years ago: Rina has the same birthday as my ex-wife, and Haruna's birthday was our anniversary.

If I ever marry again, I chose "Love."  I haven't looked up the Yellow translations yet, but it's a beautiful tune and it makes me happy.  Perfect for the occasion.  In the meantime, I'll be on the lookout for someone who has a birthday in late May like Tomomi and Mami.  August didn't fair to well for me the first time around.
tonymiller
International Performer

I would probably pick "Love me do", but my wife would get mad if I married somebody else
TachibanaRyo
Caless Student

Honestly for me, I am still too young to be even thinking about marriage, but if I got married 10 years from now or so, and even if Scandal is not active anymore, I hope I can invite them to my wedding and have them play any song for me, it doesn't really matter what song cause I love them all. 
Tuturu
Caless Student

I'd go with
Taiyou to kimi
for the first dance, then
Very special
when the guests join us on stage, followed by
Anata ga mawaru
then
STANDARD, Kagerou,
Slow it down with
LOVE
and finish with
Chiisana honou
I listen to Timo's RICH bass 
everyday
Kagamimisan
Caless Student

I think Love me do , Sister , shunkan sentimental doll and kill the virgine , they are all important for me 
KazariYui
Caless Student

The acoustic version of koe. uploaded on youtube no vocal 
thoseguiltyeyes
Administrator

2011.7.3 AM2 - Anaheim, CA 2012.3.28 SCANDAL vs BUDOKAN 11.3+4 SCANDAL HALL TOUR 2012 @愛知 11.10 Happy MUSIC Live 2012 2013.3.3 SCANDAL OSAKA-JO HALL 2013 @大阪城ホール 2014.6.1 HNL Ekiden & Music 2014 6.2 Fan Meeting 2015.4.25 SCANDAL WORLD TOUR 2015「HELLO WORLD」 Paris, FR 4.26「HW」London, UK 4.30「HW」Essen, GER 5.15「HW」Chicago, IL 5.20「HW」Mexico City, MEX 5.22「HW」LA, CA 5.23「HW」Anaheim, CA 2016.1.12+13 PERFECT WORLD @武道館5.21 Welcome Fan Meeting 5.22 HNL Ekiden & Music 2016 5.23 Farewell Fan Meeting 8.21 SCAFes @泉大津フェニックス 2017.7.14 47 Prefecture Tour @Ibaraki 7.15 Mito 7.17 Tokyo 2018.9.5 SCANDAL US & Mexico Tour 2018 "Special Thanks" @NY 9.7 @SF 9.9 @Anaheim 9.12 @MTY 9.14 @MEX 9.16 @TX
Sorry guys but I would rather play classical wedding pieces over any songs by SCANDAL at the wedding ceremony. But, I'd love to play Love and Love Me Do at the reception. Meanwhile, Take Me Out sounds exciting for icebreakers for the groomsmen and bridesmaids.
Fox
Caless Student

One Piece
Go to page :

1, 2
Permissions in this forum:
You cannot reply to topics in this forum