You thanked this post! -
Thanks received by this post:
Message reputation : 100% (5 votes)
It's that day again, time sure flies so fast! .clap.
3 years ago on this same day I decided to create a SCANDAL fan community for international fans, and it really really makes me happy that it's been 3 years and we're still going strong.
Thank you to everyone who made this community what it is now. Thank you to all the contributors, translators, info and treasure finders, graphic designers, donors, active members, and everyone who gave their contributions in their own little way.
I was thinking of stuffs to say here and I remembered this, I was suppose to share this story in the first anniversary speech but I didn't because it was too long already, lol.
3 years ago, around 1 week after I made SH, my dad came home from the US. When he arrived he gave me an iPod Touch as a present. For one month, the whole of November, I never took that iPod out of its box. It was because I never had time to set it up. When I got home from school I would immediately log-in to SH, do all sorts of admin stuffs and chat with all the new friends I was meeting. That daily routine basically ate up all of my time haha. So it really makes me glad to see that the huge amount of time and effort I gave then will be this awesome in 3 years. I know I have been quite inactive this past 1 and a half years, but it won't be long till I finally finish school and return to being the active admin like I was before. /smug
Also, I'll always be very grateful to the everyone who made effort for SH to be recognized by SCANDAL. This coming November will probably be one of the longest month in my life, because finally and I mean FINALLY
I will get to see them live in December! It will now be my turn to contribute to SCANDAL's recognition of SCANDAL HEAVEN. I'll do my best! db~
And lastly, of course thank you to the main reason why this forum was created and still here after 3 years, to our beloved girls HARUNA, MAMI, RINA, and TOMOMI. To the most awesome band, SCANDAL!
Congratulations to SH for 3 wonderful years, let's all continue to do our best in making this community an even more amazing place! Again, from the bottom of my heart, thank you to everyone!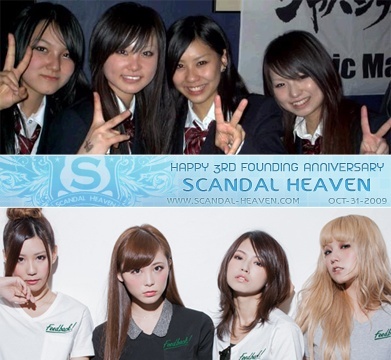 HAPPY 3RD BIRTHDAY TO SCANDAL HEAVEN!


Last edited by mc~ on Mon Dec 03, 2012 11:56 am; edited 3 times in total