You thanked this post! -
Thanks received by this post:
Message reputation : 100% (8 votes)
Yep, this thread is for the guitars and gear used by our beloved SCANDAL.
Guitars, drums, amps, pedals and whatever related can be added here.
So, let's start with Haruna-chan, shall we?
HARUNA (Vocals & Rhythm Guitar)
Pick of choice: Custom Fender "Rock On" Touring Picks - 1.00mm [Has the band's emblem on it]
Currently Using:
Squier (Fender) Telecaster HH HARUNA MODEL
(Used from March 2012 - present; considered to be her main guitar)
Has silver sparkles and a skull and crossbones design on the body with a black pickguard. Since it's based on the original HH, it would have an alder body, maple neck, and maple fretboard.
Fender Telecaster Thinline Deluxe
(Used from Shunkan Sentimental era - present; can be considered an alternate guitar)
Yes, my friends, the mightyyyyyyyyyy Telecaster! Ding ding ding ding! This baby is a Classic Player Tele Thinline Deluxe. At first I thought Haru-chan merely changed the pickguard of the Classic '72 Custom to a white pickguard, but then I realized that this guitar has a humbucker in the bridge position whereas the Classic '72 Custom has a single coil.
Fender American Standard Telecaster
(Used from DOLL era - BEST★SCANDAL era; nowadays, can be considered an alternate guitar)
Nickname: "Shun-kun"
She used a Fender Telecaster with maple fretboard for live performances and PVs between the DOLL and Yumemiru Tsubasa days. The pickups should be the standard Fender American Standard Tele stock pickups, and she customized the pickguard to a pearloid pickguard.
Not Used Anymore/Used Rarely:
Yamaha Pacifica 112
(Shiroten era)
She has a Yamaha Pacifica back in her early shiroten days, a common one with a rosewood fretboard.Note the headstock, different from Fender's. She attached a CAN-TA sticker to the body as a decoration/charm.
Fender Eric Clapton Stratocaster
(Used during indie days; SPACE RANGER - Kagerou)
She also has a Fender Strat with maple fretboard, used more often during their indie performances and PVs like Space Ranger and Koi Moyou.The stock pickups are Lace Sensor pickups, as stated by the people at jphip, so it looks like she didn't change the pickups to suit herself. Eric Clapton model with the special signature.
Below, you can just barely make out the Eric Clapton signature on the headstock.
Here, you can see Mr. Clapton's siggy better.
Fender(probably Squier) Telecaster
(Shoujo S PV & BEST★SCANDAL PB only)
Haruna had another Fender Tele but this time with a rosewood fretboard. Since it was used in the Shoujo S PV, I don't think it was used anywhere else. She probably used this for the PV and PV only, since they had to get soaked with their guitars and she wouldn't wanna risk her guitars spoiling. They don't have to actually play their guitars in the PV anyways, so she used this as a prop. This is also the guitar she smashed in the BEST★SCANDAL album photobook. On the week of March 25/2011, this guitar along with the other two guitars used in the Shoujo S PV were auctioned. The winning bid for this guitar was ¥251,001.
Fender Mexico '69 Telecaster Thinline - Surf Green Color (2002 Limited Ed.)
(Used during First One-Man Live Tour in 2009)
This guitar is a Fender Thinline Series Telecaster, but more specifically the Classic '69 Series Telecaster Thinline with a maple neck. As expected of Haruna-chan, the pickguard is a pearloid pickguard and the body paint is surf green. The '69 Thinline Series provides a lightweight body and a warmer and rounder tone, but I think what caught her eye was the light blue/green colour...and the lighter weight as compared to other Teles. She has used this guitar during their First One-Man Live Tour in 2009. Songs performed with this guitar include Ring! Ring! Ring! and S.L. Magic.
Here's the pic of her in the studio(November 29/2009):
And here's one from jphip of her trying out the guitar in a shop.
Fender Telecaster Classic Series '72 Custom
(~2009)
Another Telecaster. Yeah. Classic Series '72 Telecaster Custom.The only real difference in this guitar is the humbucker in the neck position, it's no longer a single coil. This guitar costs a bomb from what I know, but then again all her guitars cost a bomb. Blah.
This pic below has both the Thinline and the Classic '69.
Takamine 1991 Limited Edition
(October 2009)
Her previous acoustic choice was a Takamine 1991 Limited Edition. It's discontinued and her model used is of a different colour than that on the Takamine website. This guitar was used during their first anniversary live on October 25/2009. Songs perfomed using this guitar include Koi Moyou, SAKURA Goodbye, and the Sadistic Mika Band cover, "Time Machine ni Onegai".
Squier Classic Vibe Telecaster Thinline
(Date of unknown; featured in volume 3 of the SCANDAL MANIA photobooks)
Yup, another Thinline Tele! Of course, as the name gives it away, this guitar's appearance is more classic lol. It has a natural mahogany-wood body with white pearl pickguard. There's an obvious "f" sound hole and the fretboard is maple as usual. Haru says that she likes this guitar because it is "lightweight yet affordable." No other appearances of this guitar have been found except for the article in the photobook.
Guild GAD-30R
(Used only once so far: ESY Live Zepp Tokyo DVD - "Sayonara My Friend")
This was first seen in the Everybody Say Yeah! DVD when the girls were performing "Sayonara My Friend". Top and bracing of the guitar are made from spruce wood while the back and sides are rosewood. The neck is 1-Piece mahogany and the pickguard pattern is tortoise shell. More info and specs can be found here: http://www.guildguitars.com/index.php/small-body/specs/GAD-30R1/
Now for Mami-chan.
MAMI (Lead Guitar & Vocals)
Pick of choice: Custom Fender "Rock On" Touring Picks - 0.73mm (Similar to Haruna's)
Guitar Strings: Ernie Ball Regular Slinky Gauge 10 (Yellow Package)
Currently Using:
Fender American Standard Stratocaster HSS Black/MAMI MODEL
(Regular model is used from First One-Man Live Tour - Shunkan Sentimental era)
(Mami model is used from 2010 Spring Tour - present)
Originally purchased as a regular Standard Strat HSS near the end of 2009, around March 2010 Mami decided to customize this guitar with a paint job that she designed on Photoshop. The result is the all-black guitar with a "melting ice-cream" design that you see today. She installed a humbucker in the bridge position, as humbuckers produce more gain than single coils, and so it's better for lead guitar. Later on, with the MAMI MODEL, the pickups, humbucker, pickguard and controls were all changed to black. Compared to the sticker Strat, this Strat has maple neck instead. Nice choice Mami!
Pictures of the regular model:
Spoiler:
Pictures of the MAMI MODEL:
Spoiler:
Squier (Fender) Jazzmaster [w/ Stratocaster assembly] MAMI MODEL
(March 2012 - present, considered to be one of her main guitars)
From alinea-mind's blog:
It has an irregular specification of three Strat's single coil on a Jazzmaster body. The selector switch arranged closely like Jazzmaster, with control knobs that consist of one volume and one tone. As you can see, the bridge and tremolo on this guitar is Jazzmaster's stuffs. The guitar has clicking sound that emphasized the high and low, and you can simply change it by using pickup selector switch. It's said that this guitar would fit for the high-tone song. The rear pickup on the bridge was made in horizontal position like the ones on the Fender Jaguar. We thought this guitar was made as the Jazzmaster's replacement, since this guitar used in Budokan's live on 'Pride' song.
Gretsch White Falcon Double Cutaway G6136DC [1962 Re-issue]
(Aug 2010 - present)
On Mami's blog entry for Aug 5, 2010, Mami shared with her fans that she had recently bought a Gretsch White Falcon. Price? A whopping ¥509,250!!! Even though she bought it during the summer of 2010, she has just used it for casual/personal use. It wasn't until early 2011 that the White Falcon would make it's professional debut by appearing in the PV for CUTE!(which makes sense because the White Falcon was used to record that track)
Blog pictures:
Picture taken and cropped from the Magazine Pictures thread(GIGS magazine, June 2011 issue):
ESP Italia Maranello Speedster
(Used from 2011 Dreamer tour - present)
Nickname: John
Mami also brought out a new guitar for the 2011 Dreamer tour. Blue colored. Has alder body with double humbucker (Wilkinson WVC Humbucker), maple neck, and rosewood fretboard. Costs roughly 73,500 yen.
Not Used Anymore/Used Rarely:
Busker's BSE - Pink
(Beginner days - Until she bought the white strat)
Mami has a pink Strat from her younger days; Shiroten days I might assume. Busker's guitars are really inexpensive; they're like knock-off Squiers! xD Jokes aside, it is understandable that she would purchase this kind of guitar since the band was still new and she was just learning guitar.
Gibson Les Paul Special Double Cutaway
(DOLL era - ShoujoS era)

Mami-chan used a Gibson double cutaway guitar. Back in the day, she divided her usage of this guitar and the sticker Strat about 40-60 of the time. Sometimes she would leave the pickguard on, other times she takes it off.
Link: http://www.gibson.com/jp-jp/Divisions/Gibson%20Custom/Les%20Paul/1960%20Special%20Double%20Cutaway/
Fender American Standard Stratocaster ~60th Anniversary Edition~
(January 2007[Shiroten era] - BEST★SCANDAL era; rarely used afterwards)
Known to Mami fans as the "Sticker Strat." Mami bought this in late January of 2007 when SCANDAL was still relatively new. As time went on, more and more stickers were added. Some notable stickers include small happy faces, stars, and Pipo-kun(the tokyo police dept. mascot & one of Mami's favorite cartoon characters). After she bought the black HSS strat, this guitar was pretty much shelved. The most recent appearance of this guitar was during the SCANDAL no Theme PV on the BABY ACTION DVD.
Just purchased, no custom stickers:
Early days, stickers start to appear:
Not-so-early days, more stickers:
Lotsa stickers:
Some pics of the stickers up close:
Spoiler:
Fender(probably Squier) Stratocaster
(Shoujo S PV & BEST★SCANDAL PB only)
Mami had another white Fender Strat. Same deal with Haruna's rosewood Tele. This guitar was used only for the Shoujo S PV and later on for the BEST★SCANDAL photobook. On the week of March 25/2011, this guitar along with the other two guitars used in the Shoujo S PV were auctioned. The winning bid for this guitar was ¥151,001. For the auction it looks like Mami (or somebody from management) added stickers to it to give it that "Mami-style" look.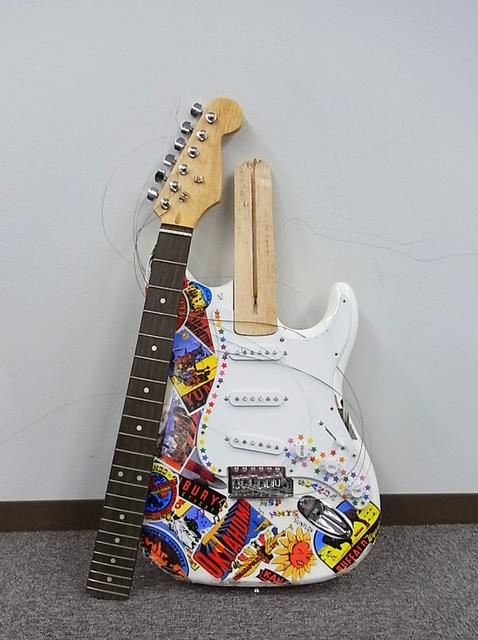 Fender Jazzmaster
(February 2011 - ????)
This is another one of Mami's newer guitars. It is either an American Vintage '62 Jazzmaster or a Classic Player Jazzmaster Special. Both possible guitars would have a rosewood fretboard and 3-color sunburst. Until then, this is all the confirmed info.
Here's a pic taken from the KDDI Design Studio Blog:
And here's a closer look at the guitar from their 【LIVE&コメント】 performance.
Acoustic guitar for Mami:
Same as Haruna-chan, I could only find one pic,and a really small one at that. Dunno what guitar is that. Looks like a Martin. :D
Next up, erotiku Tomomi-chan.
TOMOMI (Bass Guitar & Vocals)
Pick of choice: Fender - Rock On Touring Pick 0.73mm (However, most of the time she is fingerpicking)
Currently Using:
Fender American Standard Precision Bass -TOMOMI MODEL-
(TEMPTATION BOX Tour era - present)
Nickname: Sabao-kun
This is Tomomi's newer bass and the one she is using most frequently ever since the Temptation Box tour in late 2010. Presented on her blog on September 10/2010, many fans will notice that this bass is super sparkly/shiny due to the custom paintjob on the body AND the headstock. To add more eye-candy, Tomomi later customized the pickguard with a reflective chrome-style one. The signature racing stripes on the body are still there, but now are in a blue-red-blue pattern. The nickname "Sabao" came from one of the suggestions to her Twitter when she asked fans to name her new bass.
More angles of the Precision Bass can be found
here
.
Fender Deluxe Active Precision Bass
(March 2013; Osaka-Jo Hall concert - present)
Similar to Nohana from Stereopony's precision bass, this is Tomomi's new bass for 2013. Body is actually black colored, not navy blue as some have speculated and as usual it was later given Tomomi's signature stripe in a gold color to match the pickguard. This bass is almost the same as Yuusuke-kun except for the body and pickup arrangement. The bridge pickup is from the jazz bass while the neck pickup is the standard precision bass one. This enables it to produce more low end sound from the p-bass side and more brigher sound from the j-bass side. Body is alder, maple neck, rosewood fretboard, and pickguard is 1-ply beveled gold vinyl. Cost: $949.99 MSRP. (Thanks to Tim_E.D for this info)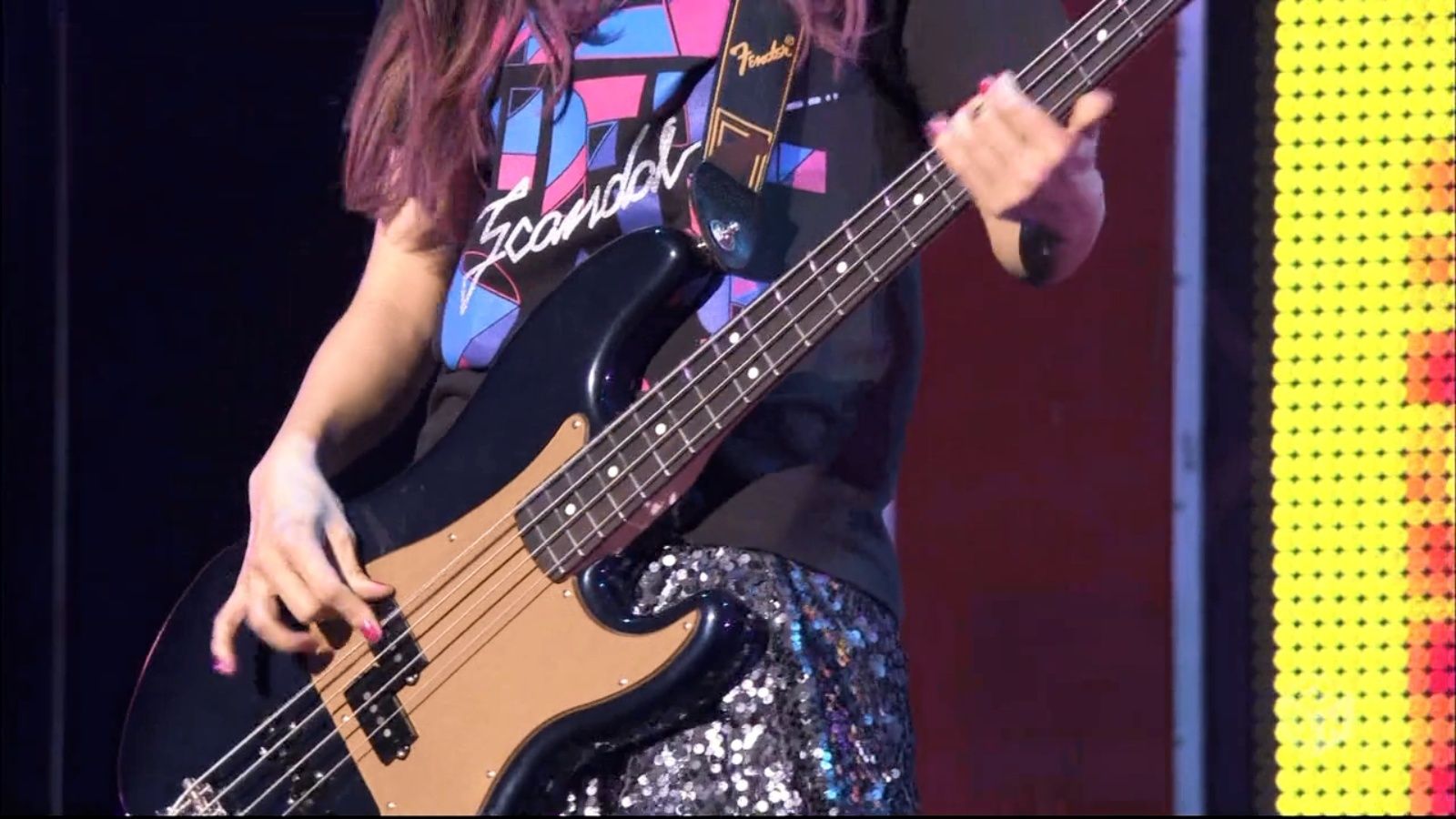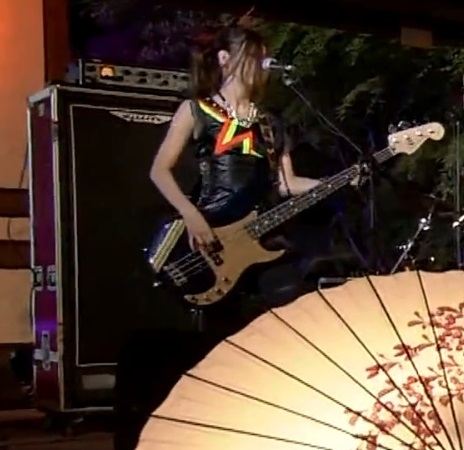 Fender American Deluxe Jazz Bass
(DOLL era - present; although used less often than before the p-bass was bought)
Nickname(s): Masaya-kun then changed to Yuusuke-kun
This bass guitar has been used ever since the girls' major label debut and has been one of few guitars that has been used regularly for such a long time frame. Candy Apple Red with rosewood fretboard, and her pickguard is like Haruna-chan's old Tele except that Tomo-chan's is black pearl instead of white. She also has a white racing stripe around the body of her bass which eventually appears on next bass(Sabao). There was some discussion about whether the stripe is a decal/sticker or it was painted on. But due to the glossiness of the stripe, it has been agreed that it is indeed part of the paint job. The neck has been customized to be slightly smaller so that it is easier for Tomomi to play those groovy bass lines. This bass has also been used for the bass solo for the song Hi-Hi-Hi, where she uses a pick for the song except for the solo, which was slapped. Whether or not the solo has ever been done on the p-bass is still an unknown.
More shots of the Jazz Bass can be found
here
As a bonus, here's Mami-chan's drawing of Masaya-kun:
Squier (Fender) Jazz Bass -TOMOMI MODEL-
(March 2012 - present)
Also made its debut at the Budokan Live in 2012. Apparently it was made to be a kind of "fusion" between the Jazz and Precision basses in terms of weight and sound. Equipped with '62 vintage model pickup, ashwood body, maple neck, and rosewood fretboard. This bass is passive bass as opposed to the red jazz bass' active trait. There are 3 control knobs on the front for front + back volume and tone. Tomo's signature racing stripe is on this bass too. It's yellow colored this time. And pickguard has the white pearl pattern.
Yamaha BB2024X
(November 2012 - present)
Body: Alder-3P(A.R.E), bowlength:863.6 mm, over-all length: 1165.5mm
Neck: Maple+mahogany 5P(bolt-on), Fretboard: Rosewood 21Fret(250R),
Bridge: Vintage brass (brass saddle, steel plate)
Pickup: Split/Single coil (Alnico)x1, Bartype/Single Coil(Ceramic)x1
Function: Master Volume, Master Tone, 3P Toggle Switch, Nickel Hardware, finishing: BL/VSB/VW
Case: Hard Case
Not Used Anymore/Used Rarely:
GIO Ibanez / GSR180SB
(Shiroten days - when she bought her first jazz bass)
With a three-tone sunburst design, this bass looks like the first bass Tomo started out with. Since it is part of Ibanez's GIO series, it is fairly inexpensive and great for beginner bassists.
Fender Japan Jazz Bass Classic 70's Re-issue / JB75-US
(Shiroten/Indie Days - Japan Expo 2008)
This bass was used more during SCANDAL's indies days, appearing in the PVs of Space Ranger and Koi Moyou. Possibly a Classic 70's re-issue. During the Japan Expo in France, Tomomi placed a handstand smurf sticker on this bass to fit in with the French environment(the Smurfs cartoon originated in France). After the red j-bass was bought, this bass was pretty much put aside. However, it was recently seen in the SCANDAL no Theme PV from the BABY ACTION DVD(to keep with the theme of the band's "origins" ;-]).
Fender(probably Squier) Precision Bass
(Shoujo S PV & BEST★SCANDAL PB only)
Tomomi had a white precision bass for the shooting of the Shoujo S PV. Same deal with Haruna's rosewood Tele and Mami's strat. This guitar was used only for the Shoujo S PV and later on for the BEST★SCANDAL photobook. On the week of March 25/2011, this guitar along with the other two guitars used in the Shoujo S PV were auctioned. The winning bid for this guitar was ¥155,001. Out of the three guitars, this one appeared to be the least smashed up.
Fender II Coronado bass
(First seen in the SCANDAL MANIA Photobook vol.3 - present)
Nicknane: Koro-tasu
Not much is known or seen about this bass (beside the color, which is Cherry Red) but Tomomi does have it in her "main fleet" of basses. It hasn't been seen in any live performance(yet!) but there's a good possibility that it has been used in a recording studio.
Here is a (cropped) picture from the August issue of the GiGS magazine.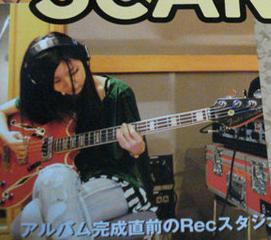 ESP Original "Space" Bass
(Debut in July 2012 - present; reportedly used only once)
Tomo also rarely using the Custom ESP, because the arrangement of the preamps makes the bass specialized on treble and growl sound, so mainly the ESP is suited for heavy metal than pop rock. the arrangement of the pickups is the same with Tomo's Deluxe Active Precision Bass Special (PJ). The custom ESP is full active bass.
She has only used this bass at the Band Yarou Yo! Vol.3 concert on July 16/2012. The lines connecting the stars and the stars themselves light up through LED lighting effects in the bass.
Credits to Tim_E.D for the info.
RINA (Drums,Percussion,Keyboard & Vocals)
Currently Using:
Pearl Masters Premium Legend Series
(March 2013 - Present; Nickname: Celine)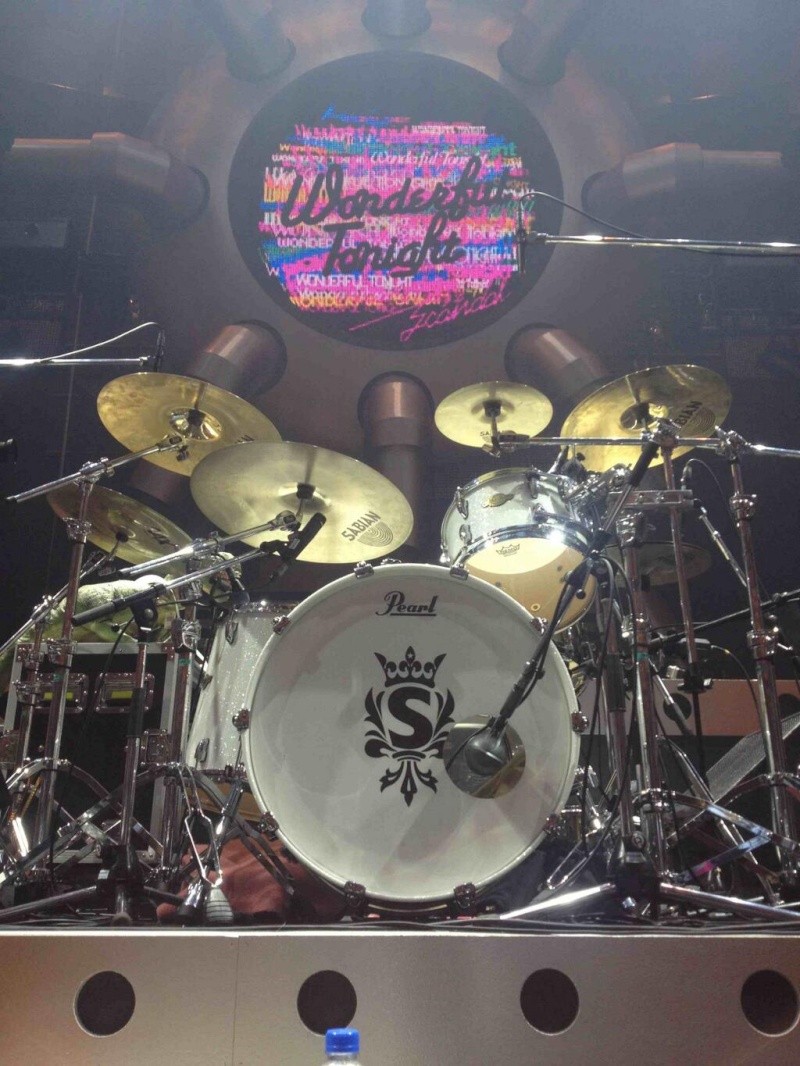 Drums
22" x 16" Bass Drum (MPL2216B): 130.200 yen
12" x 8" Tom (MPL1208T): 54.600 yen
16" x 16" Floor Tom (MPL1616F): 77.700 yen
14" x 5,5" Snare (MPL1455S)/FB1435C : 52.500 yen
Cymbals
Sabian HHX Series Groove Hi-Hats (14")HHX-14TGH, HHX-14BGH: 30. 450 yen
Sabian AAX V-Series Crash cymbal (16")VL-16CS-B: 33.600 yen
Sabian AAX V-Series Crash cymbal (18")VL-18CS-B: 37.800 yen
Sabian AA Series Medium Heavy Ride Cymbal (20") AA-20MHR: 39.900 yen
Sabian AA Series Chinese Cymbal (18") AA-18C-B: 34.650 yen
Sabian AAX Splash Cymbals (10") AAX-10SP-B: 17.850 yen
Pearl Masters Premium Maple Series 4-Ply
Pink Glass w/ Rainbow Finish
(March 20/2010 - ~2013; Nickname: Angie)
Sticks
Pearl - Artist Models "Limited" Series: "Scandal Rina"*
-Oak sticks, 14mm x 60mm
TAMA - Oak Sticks 0214P
Drums
Pearl Masters Premium / 22" x 18" Bass Drum (MMP2218BX/C)**
Pearl Masters Premium / 12" x 8" Tom (MMP1208T/C)
Pearl Masters Premium / 16" x 16" Floor Tom (MMP1616F/C)
Pearl Masters Premium / 14" x 5.5" Snare Drum (MMP1455SE)
***
Cymbals
SABIAN / HHX series / 14" Groove Hats
SABIAN / Vault series / 16" Crash
SABIAN / AAX series / 10" Splash
SABIAN / AA series / 20" Medium Heavy Ride
SABIAN / Vault series / 18" Crash
SABIAN / AA series / 18" Chinese
Source
*In her blog entry for July 31/2011, Rina says that she has started to use her own Rina model sticks with Pearl's grip tape. The specs of these model sticks are unknown, but she claims that they will be "on sale soon."
**In her blog entry for March 20/2010, Rina says she increased the size of her bass drum to 24" x 18" to give more bass.
***The snare drum has been changed from the default Masters Premium to a `works series snare.
Looks like the blue snare has been changed to a Pearl Reference Metal Brass RFB 1450 Brass Snare.
Recently, Rina has changed the "SCANDAL" text on the front of the bass drum to the stylized "S" logo.
Keyboard
In the Temptation Box Tour DVD, Rina is seen playing a keyboard solo for during the band's Shoujo M performance. This keyboard is a
Roland Juno-D
.
After the tour, Rina bought herself a similar model. She got the
Roland Juno-Gi
.
For the recording of Kill the Virgin, Rina used the
Sequential Circuits Prophet-5
synthesizer.
For the live performance of the same song, she used the
Roland Juno-G
Drums used in the past:
YAMAHA - Electric Drums (unspecified)
YAMAHA - Rock'n Road Series
Pearl - Masterworks Series
Okay, up next, pedals and amps! Information is taken from jphip, scandata, scandal4gear, alinea's blog, and su2009's blog.
Amps and pedals that are highlighted in RED are the most recently seen and used gear.
If the girls are currently using something that isn't recorded in this section, it is probably fairly new gear or gear that is difficult to identify.
Mami-chan:
Amp
:
Marshall DSL50 or 100 w/ Straight Marshall 4x12 (most likely JCM900)
Marshall / JCM2000 DSL100
Marshall / 1960A
Marshall / 1962 Blues Breaker
Diezel / Herbert
Marshall / JCM2000 DSL50
Marshall / 1960AX Cabinet
Pedals
:
BOSS / Chorus Ensemble CE-5
BOSS / Chromatic Tuner TU-2
BOSS / DD-3
BOSS-Fender / FRV-1
BOSS / OC-3
BOSS / SD-1
BOSS / AW-3
CARL MARTIN / HYDRA BOOST
Digitech / Whammy
Electro Harmonix / Little Big Muff
Fulltone / Full-Drive 2 MOSFET
Ibanez / Tube Screamer TS-9
Line 6 / MM4
NOVA / Delay
Providence / PEC-2
Xotic / AC Booster
Xotic / BB preamp compressor
Line 6 / POD HD500
VoxWah / 847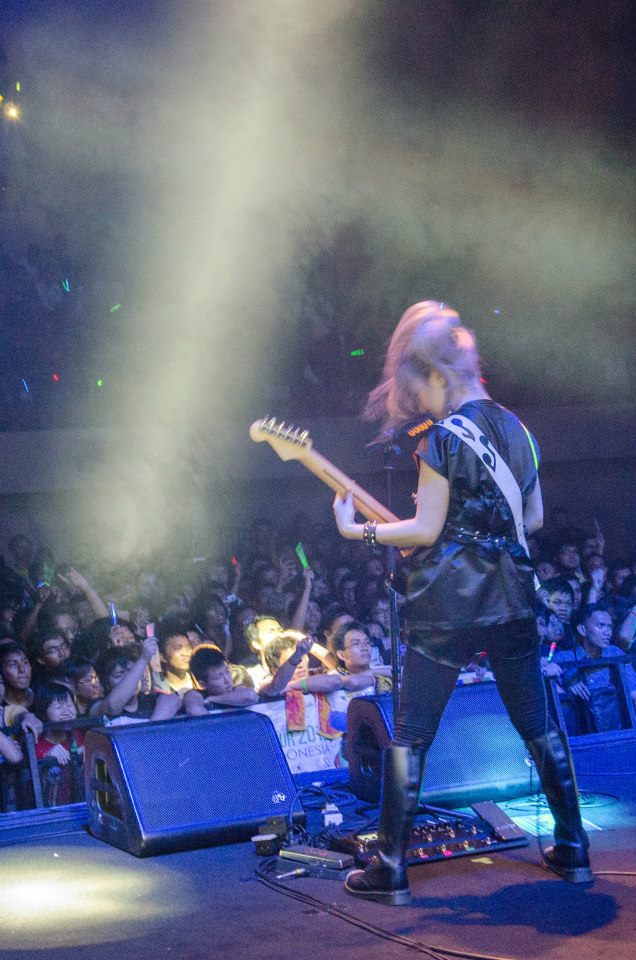 Haruna-chan
:
Amp
:
Peavey Bandit Combo
Orange Rocker 30 Head with a PPC 4x12 Cab
Fender Twin Reverb
SHINOS Luck V6 "HARUNA MODEL"
Pedals
:
BOSS / DD-3
BOSS / FRV-1
BOSS / TU-2 Chromatic tuner
CARL MARTIN / DC DRIVE
CARL MARTIN / Red Repeat
Fulltone / FULL-DRIVE 2 MOSFET
Fulltone / OCD Distortion pedal
Ibanez / TS9DX
Roland / EV5 Expression Pedal
Providence / PEC-04
Xotic AC / Booster
Xotic / BB Preamp
Carl Martin Red Repeat delay pedal(the red pedal on the floor) and guess what,another overdrive pedal but this one can produce more gain if needed,the Carl Martin DC Drive(the orange pedal on the pedalboard),from blog entry 2009-12-02.
Tomomi-chan
Amp
:
Warwick Cube 100
Ampeg / SVT-2PRO
Ampeg / Bass Cab (unspecified)
Ashdown / ABM 500 EVO III
Ashdown / Neo 810 Cab
Pedals:
BOSS / SYB-5
Fender / Sub-Lime Bass Fuzz Pedal
Providence / PEC-2 Effect Controller
Roland / EV5 Expression Pedal
Tech21 SansAmp / BASS DRIVER DI
MXR / 10 Band Graphic EQ
MXR / Direct Boxes M80 Bass DI+
EBS / MultiComp
BOSS / Chromatic Tuner TU-2
Rina-chan
Analog Mixer:
Behringer / XENYX 502
(Custom) In-Ear Monitors & Microphones
The first piece of news regarding SCANDAL using the FitEar in-ear monitors was when they did their last Animax Musix concert. The su2009 blog said that Rina uses the
Custom FitEar MH334
.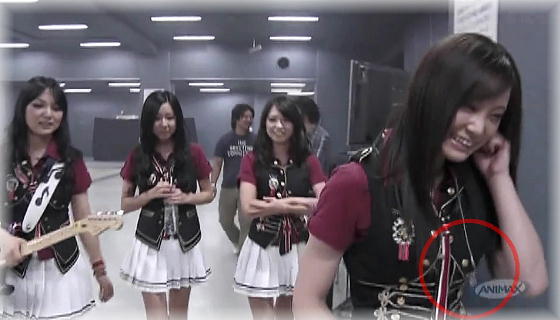 However, since then, Rina has 2 custom in-ear monitors. One with hearts and another with flowers.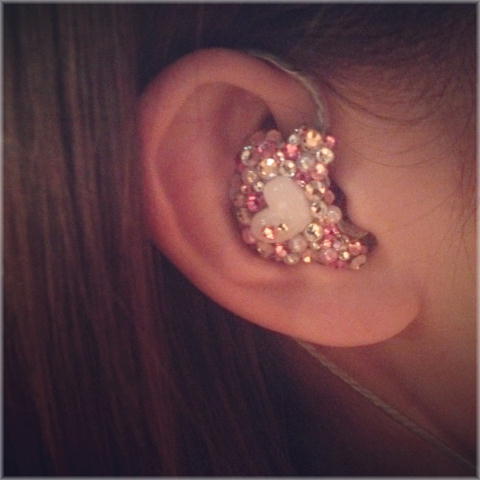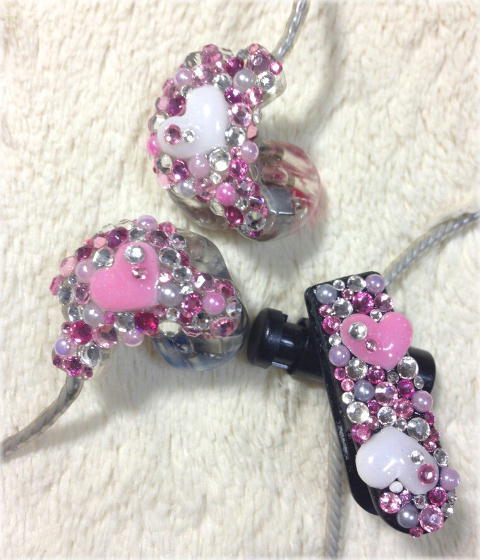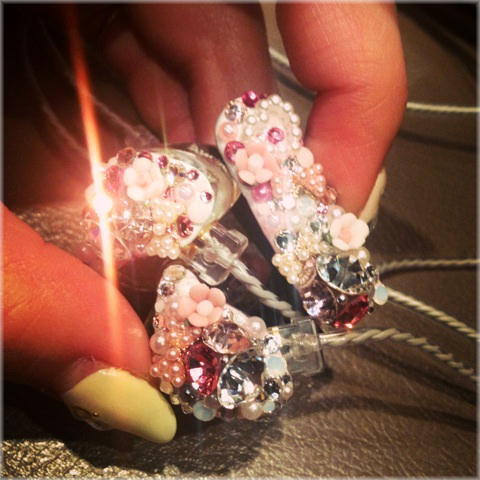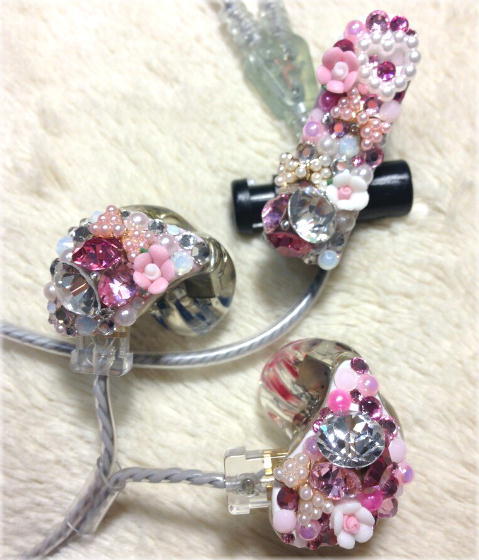 The rest of the band uses FitEar monitors too! They are some custom set of FitEar monitors. Probably
FitEar ProAudio
or
FitEar Monet
series.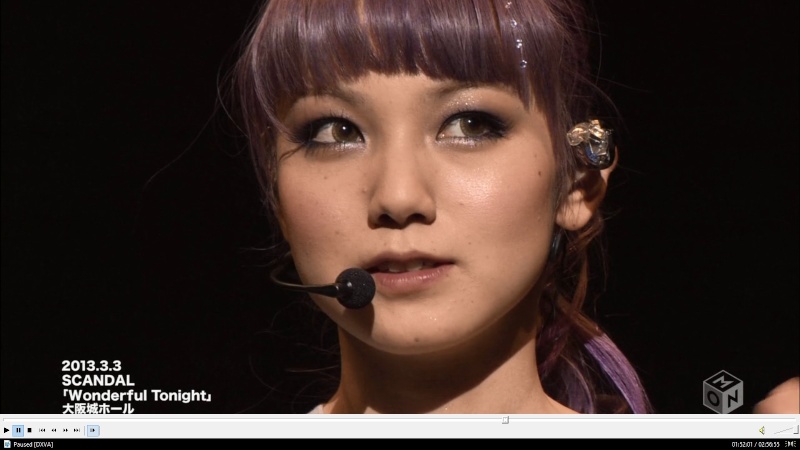 Microphones
It looks like SCANDAL uses Shure for microphones and mic stands.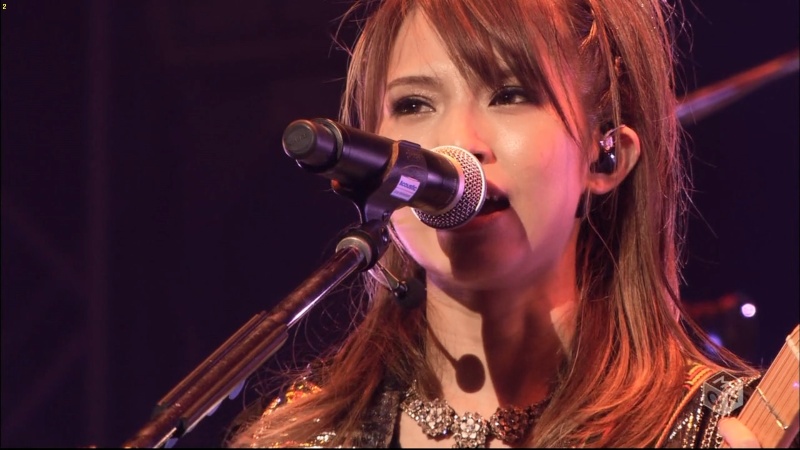 Note that the stand has "Acoustics" label on it.
For wireless mics they use the Shure WBH54 (see above images).
That's all for now.
Credits to jphip, scandata, scandal4-indo.forumotion.net, su2009's ameblo, alinea-mind's blog, and many other sources for pics and information. Other pics were taken from this forum and screenshots the PVs. Members of the forum helped a lot too such as porcupine, nysuke, konohagure, hamatori, asagi, natchi, Ryou, Tim_E.D, spacecadet, Erick M, jigoku79 and many others.
Just some footnotes:
You guys may note that with the exception of the Yamaha Pacifica Haruna-chan tends to favour maple necks and Mami-chan tends to favour rosewood necks. This is because maple necks gives out a much brighter sound then rosewood fretboards, and so many rhythm guitarists choose maple over rosewood as strumming sounds nice with maple necks. Rosewood gives out a deeper, richer sound than maple,very good for licks, leads, riffs and solos.


Last edited by EugeneAng on Fri Aug 06, 2010 3:19 pm; edited 27 times in total